Last update on December 6, 2019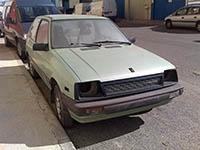 Are you looking to buy a car to use or a rebuilder for a project? You've come to the right place. Check our rebuilder inventory for the best deals for your next project. If you've got a vehicle that has hit its high mileage or damaged give us a call and we'll pick it up.
At Airdrie Auto Parts and Recycling we focus on customer service and customer satisfaction. While we perform the safe job of disassembling and recycling late model, low mileage scrap vehicles, we also strive to be environmentally responsible in all of our processes. We understand the importance of recycling auto parts.
What you can find:
car parts truck parts cash for junk car
300-104 EAST LAKE BV NE AIRDRIE, AB, Airdrie, AB (Zipcode: T4A2G2)
Business Hours
AIRDRIE AUTO PARTS & RECYCLING Reviews
Place here your comments now!
Need used parts? Submit your parts request for a quote
Improve your sales with us!
More than 1,000,000 monthly visitors
We couldn't be the leading junk yard directory on internet for the United States if we didn't offer you some additional elements in order to help you in your search for second-hand spare parts.
Browse this listing (which is organized from closest to furthest) for more junkyards in the surroundings of Airdrie (Alberta).