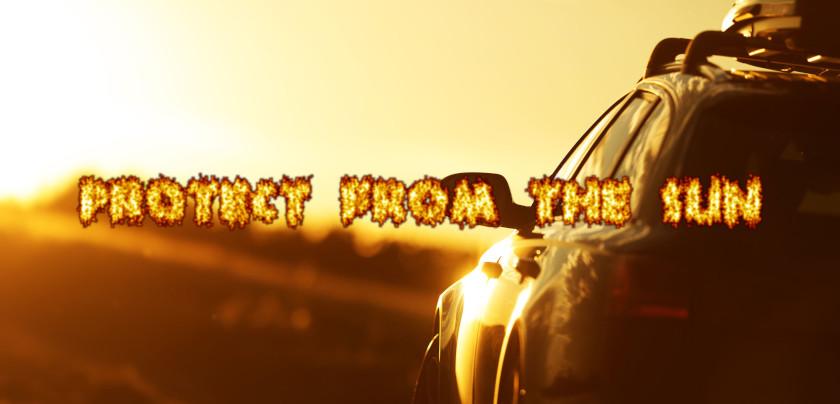 One of the most serious problems for the deterioration of our car is the fact that it gets a lot of sun. This can cause the sheet metal of our auto to soften and the paint to go away. Inside, it also breaks, if we have a leather interior, when it gets a lot of sun through the window, the leather deteriorates and cracks. That is why here we leave you five vital tips that you must follow so that your car does not deteriorate.
1. PARK THE CAR IN THE SHADE
This is something that seems obvious, but in summer, when we go to visit somewhere, we don't want to spend a lot of time and park anywhere. This is a big mistake, because maybe if we go around the area a few more times we can find a better place where the sun doesn't hit it.
2. PUT A COVER ON IT
If we do not have the option of leaving it parked in a place where the sun does not hit it, and we know that the vehicle will spend many hours without moving from the site, another recommendation is to put a cover on it. This allows us to leave our auto in the first parking lot we see and thus be able to enjoy more time wherever we go. There are many types of covers, for all types of cars, and in many more colors.
3. USING THE SUNSHADE
Although the previous option is not available to all drivers, something that we always have in our car is the sun visor, with this the outside part of the car is not protected, but the interior, which is the seats, the floor, etc., is. Therefore, if you need to protect your car right now, the sunshade is one of the best options.
4. ROLL DOWN THE WINDOWS
This is a good option, lowering the windows a few centimeters will prevent our car from overheating due to the sun. But this trick, unfortunately, we can not do it in all places. In order to leave the windows slightly open, we must be sure that we leave the vehicle in a safe area, because if a thief is willing to rob you in the car and you have the windows down, it is much easier for him to access the interior of the auto.
5. WASH THE CAR OFTEN
Washing the car more often means that dirt does not remain on the sheet metal or paint on the exterior of the car. The cleaner we have the car, the less the sun will affect us, since dirt particles can become embedded in the paint when the sun hits it.
After knowing the best options to protect our car from the sun and heat, I hope you will do them. Since this way we will avoid some visits to the mechanic to paint our car or to fix our precious leather seats.
Comments