Last update on August 21, 2014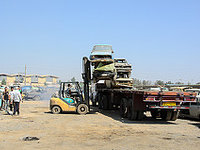 Users who are looking for salvage yards specialized in the distribution of scrap metal in the surroundings of Romulus (Michigan), here they´ve an option that won't disappoint. These are professionals who deeply check the junk auto spare parts they trade and offer the expected warranties, so you can acquire them with absolute security. In case you want to get in touch with them, you can do so: phone. More information: The Worleys Towning is open from Monday to Friday.
What they sell:
scrap metal
USA, Michigan, Wayne, Romulus
Romulus, MI (Zipcode: 48174)
Operating Hours
Want to sell your junk car for cash?
Looking to easily get top dollar cash for your old auto? If that's the case, you come to the appropriate place.
Complete the step-by-step form in under 2 minutes by providing the details about your car.
Receive the purchase offer for your vehicle immediately and without any obligation. Discover the sum you will receive for your vehicle.
Get instant payment and benefit from the advantage of free towing service. Dispose of your car without worries, since it will be retrieved from wherever at no extra cost.
Need used parts? Submit your parts request for a quote
Improve your sales with us!
More than 1,000,000 monthly visitors
We couldn't be the finest junk yard repository on internet for the United States if we didn't offer you some additional elements to assist you in your search for second-hand parts.
Check this list (which is organized from closest to furthest) for additional salvage yards close to the area of Romulus (Michigan).
1

1. Vanborn Auto Wrecking

28527 Van Born Rd, Romulus

It's easy to save large amounts of money on the maintenance of your dear auto by buying second hand spare parts with guarantee in this popular in Romulus surroundings salvage yard. Additional information: They work from Monday to Friday.

2

2. Scrap Busters, Inc.

Wayne

3.6 miles

This junkyard wants to deliver an highly proficient service at incredible prices, gathering a broad diversity of inventory and with the warranties requested by its purchasers. You have the possibility to reach this business in the town of Wayne (Michigan). Other users have shared 2 opinions about this junk yard.

3

3. Taylor Auto Salvage

16211 Pardee Rd, Taylor

5.1 miles

This salvage yard located near the city of Taylor (Michigan), provides an highly competent service to its buyers, offering surprising discounts but with the expected quality and a huge diversity of supply. They work from Monday to Sunday.This junk yard has been rated 3 times by our visitors.

4

4. Glens Car Truck II

Taylor

5.1 miles

Do you own an aged car or are you trying hard to locate second-hand pieces for your automobile? This directory advise you to approach this junkyard, since it provides a huge catalog.

5

5. C. T. S. Auto Parts, Inc.

Taylor

5.1 miles

The junk yard we show here is placed in Taylor (Michigan) and it's providing the highest quality vehicle pieces to its eventual purchasers near the environs. If you want to request a quote for your old vehicle or ask for a precise junk piece, feel free to contact them via email, phone or tollfree.

6

6. Parts Depot

Taylor

5.1 miles

The ideal way to avoid wasting hundreds of dollars on second hand parts for your car is by approaching a salvage yard and this is a superb option in the Taylor location.

7

7. Bishop's Auto Wrecking

Inkster

5.5 miles

Do you own a decrepit vehicle or are you immersed in the search of used spare parts compatible with your automobile? This directory suggest a visit to this salvage yard, since it offers a gargantuan stock.

8

8. Bishop Auto Wrecking

2780 Spring Hill Ave, Inkster

5.5 miles

You can economize large amounts of money on the conservation of your loved auto by buying used parts without giving up the minimal warranties in this well-known in Inkster neighborhood wrecking yard. Additional information: They work from Monday to Friday.

9

9. Murphy Auto Wrecking

Inkster

5.5 miles

Customers can visit this salvage yard close to the vicinity of the municipality of Inkster (Michigan). Its main business model is the distribution of auto parts with the best prices in the vicinity and offering all the guarantees that you could require. If you are aimed to reach them, you can do it by these methods: phone, tollfree or email.

10

10. D & R Auto Parts, Inc.

Belleville

6.3 miles

Purchasers have the opportunity to reach the friendly managers of this salvage yard by this way: phone, tollfree and email. In case you want to acquire the best quality auto spares in the city of Belleville (Michigan), they are an incredible pick. In addition, you may check 1 reviews in order to know more about this business.