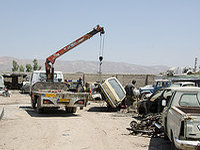 Users who are interested in wrecking yards specialized in the marketing of close to the vicinity of Romulus (Michigan), here they have a choice that will not deceive. These are specialists who deeply check the used auto spares they distribute and deliver the expected guarantees, so you can buy them with total security. If you need to get in touch with them, you can do so: phone. Additional info: The Vanborn Auto Wrecking is open Monday to Friday.
auto wrecker
used auto parts
self service
USA, Michigan, Wayne, Romulus
28527 Van Born Rd, Romulus, MI 48174
Operating Hours
Need used parts? Submit your parts request for a quote
We couldn't be the finest junkyard database on internet for the United States if we didn't offer you some additional features to assist you in your search for junk spare parts.
Browse this list (which is organized from nearest to furthest) for additional junkyards near the vicinity of Romulus (Michigan).