Last update on August 21, 2014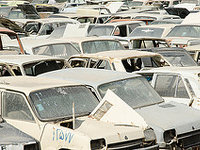 Situated in the municipality of Carmichaels (Pennsylvania), this junkyard is offering car parts to its potential clients. If you are aimed to ask about any second-hand parts, estimated junk car value, acquire or sell scrap cars, please contact them by phone, tollfree and email. The Whiteley Auto Wreckers opening hours info is not available yet but you can access its website.
What you can find:
car parts
USA, Pennsylvania, Greene, Carmichaels
111 Old Route 21 Rd, Carmichaels, PA (Zipcode: 15320)
Operating Hours
Want to sell your junk car for cash?
Wanting to easily obtain top dollar cash for your junk vehicle? If that's the case, you come to the right place.
Fill out the step-by-step form in under 2 minutes by giving the details regarding your car.
Receive the purchase offer for your car instantly and without any obligation and see the amount you will be paid for your vehicle.
Get instant payment and benefit from the advantage of free towing service. Get rid of your car with no worries, as it will be retrieved from wherever at no extra cost.
Whiteley Auto Wreckers Reviews
Place here your review below!
Need used parts? Submit your parts request for a quote
Improve your sales with us!
More than 1,000,000 monthly visitors
There exist a huge mixture of makes and models on the market, so there is a possibility that you won't locate the second-hand parts you're looking for in this salvage yard, regardless of its impressive catalogue. Don't worry, we have thought of everything and found other businesses for you in the area.
This list (which is organized from nearest to furthest) displays additional junk yards near the vicinity of Carmichaels (Pennsylvania):
1

1. West End Auto Wreckers

Route 88, Carmichaels

Inhabitants of the Carmichaels area have the possibility to obtain a huge supply of junk spare-parts for their autos in this wrecking yard. You can get in touch with them via: tollfree, email and phone. The West End Auto Wreckers timetable information cannot be found, despite this you can visit their website.

2

2. Ewart Auto Salvage

Masontown

5.1 miles

Purchasers have the opportunity to talk with the friendly managers of this junkyard by these methods: email, phone or tollfree. If you want to get high quality auto pieces in the town of Masontown (Pennsylvania), they are an inescapable pick.

3

3. Hlebik Mike Auto Body Repair Auto Wrecker

National Pike E, Brownsville

9.3 miles

You can save large amounts of money on the reparation of your dear auto by buying used parts without giving up the minimal warranties in this popular in Brownsville neighborhood business. Additional information: The Hlebik Mike Auto Body Repair Auto Wrecker schedule information is not available, however, you can see their web.

4

4. Losko's Route 40 Auto Wreckers

Brownsville

9.3 miles

Users have the possibility to visit this salvage yard near the surroundings of the city of Brownsville (Pennsylvania). Its fundamental business area is the distribution of auto spare parts with the lowest prices in the state but without giving up all the warranties that you may expect. In case you are aimed to get in touch with them, you can achieve this by these methods: email, tollfree or phone.

5

5. Loskos Route 40 Auto Wreckers

246 Old National Pike, Brownsville

9.3 miles

Do you own an used vehicle or are you trying hard to locate used parts compatible with your automobile? We recommend to approach this wrecking yard, since it offers an immense supply. Additional info: This salvage yard business hours information is not available yet.

6

6. Jordan Auto Parts, Inc.

217 Moffit Rd, Dilliner

9.7 miles

In case you're looking for the highest quality junk pieces near the Dilliner zone, this junkyard can be an excellent pick to buy them at a great price. Feel free to contact them using: phone, tollfree and email. The Jordan Auto Parts, Inc. is open Monday to Friday.Other customers have left 6 reviews about this salvage yard.

7

7. Medved Auto Salvage

Smithfield

11 miles

The ideal technique to save hundreds of dollars on used parts for your auto is by visiting a wrecking yard and this is an exceptional option near the Smithfield area.

8

8. Barton Auto Wrecking

175 School St, Waynesburg

11.1 miles

Do you have an aged vehicle or are you immersed in the search of second-hand spare-parts for your automobile? This site suggest a visit to this business, since it offers an extensive supply. More info: The Barton Auto Wrecking schedule information cannot be found, despite this you can see its website.

9

9. Jacks Recycling

226 Mt.Morris Rd, Mount Morris

12.2 miles

This junkyard wants to distribute a very skilled assistance at lower prices, gathering a considerable depht of catalog and with the warranties demanded by its buyers. Users have the possibility to find this wrecking yard near the town of Mount Morris (Pennsylvania). They are open from Monday to Friday.In addition, you may read 1 thoughts in order to know more about this business.

10

10. Bens Auto Wrecking

4220 Mason Dixon Hwy, Maidsville

13.2 miles

It's easy to save hundreds of dollars on the conservation of your dear vehicle by getting second-hand spare parts with guarantee in this leading in Maidsville surroundings business. They're open from Monday to Friday.