Last update on August 21, 2014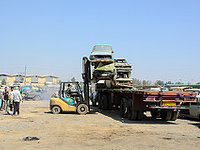 In the area of Brooksville (Florida) is stablished this wrecking yard, which is perfect for owners looking to acquire the best second-hand parts for their cars, but without having to spend too much money. Here you´ll be able to find car parts with the expected guarantees of the market and great customer attention. If you want to get in touch with them, you can do so: email, phone and tollfree. More info: The VFW Road Auto Salvage business hours information isn't included yet.
Their business model:
car parts
USA, Florida, Hernando, Brooksville
Business Hours
VFW Road Auto Salvage Reviews
Need used parts? Submit your parts request for a quote
Improve your sales with us!
More than 1,000,000 monthly visitors
New blog posts that may be of your interest
There's an enormous diversity of makes and models for sale, so there is a probability that you won't locate the second-hand parts you are looking for in this wrecking yard, despite its deep inventory. Don't worry, we've already thought about that and retrieved other businesses for you nearby.
This listing (which is organized from nearest to furthest) provides additional junk yards in the surroundings of Brooksville (Florida):
1

1. 98 Auto Recyclers Salvage

E Hwy 50, Brooksville

The junk yard we show here is situated close to Brooksville (Florida) and it's delivering high performance vehicle spares to its possible customers in the proximity. In case you want to demand an estimation for your junk car or request for a specific junk part, please contact them using phone.

2

2. T & T Auto Wrecking & Salvage

Off Hwy 491, Brooksville

Customers have the opportunity to visit this business in the vicinity of the municipality of Brooksville (Florida). Its preeminent business model is the marketing of vehicle pieces with the most reasonable prices in the state but without giving up all the guarantees that you may wish. In case you are aimed to reach them, you can achieve it by these methods: phone. In addition, you may check 1 reviews in order to know more about this business.

3

3. 98 Auto Recyclers

29119 Cortez Blvd, Brooksville

Do you have sleeping in the garage a junk vehicle or are you immersed in the search of used spare parts for your auto? This directory suggest a visit to this junk yard, since it provides a wide inventory. This business schedule info does not appear in our database, however, you can check its website.

4

4. Fine Cycle

County line rd, Spring Hill

12.8 miles

The proper technique to avoid wasting large amounts of money on second hand pieces for your vehicle is to contact a junkyard and this is an exceptional choice close to the Spring Hill neighborhood. They're open from Monday to Friday.

5

5. Carters Auto Recycling

8795 S Florida Ave, Floral City

14.5 miles

Customers can reach the helpful owners of this junkyard by this way: phone. In order to obtain the best quality auto pieces in the city of Floral City (Florida), they are an ineluctable choice. More info: The Carters Auto Recycling timetable info is not available, despite this you can visit its website.

6

6. Sunshine Corvettes Inc

Dade City

17.9 miles

In case you're in the task of looking for the best second hand parts in the Dade City vicinity, this junkyard could be a great pick to buy them at a low price. Feel free to get in touch with them via: email, phone and tollfree. Additionally, you can check 1 reviews left by our visitors.

7

7. IronHorse Werks LLC

17639 Spring Valley Rd, Dade City

17.9 miles

You can avoid wasting large amounts of money on the maintenance of your beloved car by acquiring used pieces without giving up the necessary warranties in this popular in Dade City vicinity wrecking yard. The IronHorse Werks LLC is open Monday to Saturday.

8

8. Best Auto and Truck Recyclers

Dade City

17.9 miles

The business you are looking here is situated near Dade City (Florida) and it's distributing incredible value vehicle spares to its potential clients close to the vicinity. In case you are aimed to request a valuation for your junk auto or plead for a specific junk spare, feel free to contact them using tollfree, phone or email.

9

9. A 1 Low Dollar Tow

Inverness

19.6 miles

You can save large amounts of money on the reparation of your beloved automobile by acquiring second hand spare-parts with warranty in this leading in Inverness area business. This junk yard schedule information cannot be found, despite this you can visit its web.

10

10. A & J Auto Salvage

1612 S Suncoast Blvd, Homosassa

20.7 miles

This business aims to offer a very proficient service at lower prices, gathering a wide breadth of supply but without giving up the guarantees requested by its buyers. You have the possibility to find this salvage yard near the city of Homosassa (Florida). The A & J Auto Salvage schedule info cannot be found, despite this you can visit their web.