Last update on August 21, 2014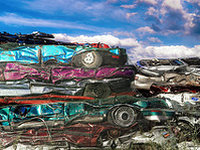 This junk yard stablished close to the municipality of Owings (Maryland), delivers motorcycle parts to its purchasers. In order to ask about any used vehicle pieces, junk auto quotes, get money for junk cars or second-hand vehicles for sale, please contact via phone, email and tollfree. The USA Cycle Salvage timetable information isn't present so far.
What they sell:
motorcycle parts
USA, Maryland, Calvert, Owings
Business Hours
USA Cycle Salvage Reviews
Need used parts? Submit your parts request for a quote
Improve your sales with us!
More than 1,000,000 monthly visitors
We could not call ourselves the leading salvage yard repository online for the United States if we didn't provide you some extra components in order to assist you in your search for used pieces.
Check this listing (which is sorted from nearest to farthest) for more junk yards close to the vicinity of Owings (Maryland).
1

1. Brandywine Auto Parts

14000 Crain Hwy, Brandywine

12.4 miles

Purchasers can reach this business close to the proximity of the town of Brandywine (Maryland). Its major business model is the marketing of auto spares with the most incredible prices in the surroundings but without giving up all the warranties that you may wish. In case you are aimed to reach them, you can do it by these means: tollfree, email and phone. This business has been voted 3 times by our visitors.

2

2. Seymour, Inc.

Charlotte Hall

17.5 miles

It's easy to economize large amounts of money on the conservation of your well-liked car by getting junk parts with warranty in this well-known in Charlotte Hall neighborhood junk yard. This junk yard has been rated 4 times by previous visitors.

3

3. GRD Cycle

White Plains

20.1 miles

Habitants of the White Plains vicinity have the opportunity to purchase an immense inventory of second hand spares that will fit with their vehicles in this junkyard. It is possible to reach them using: email, tollfree or phone.

4

4. TOP DOLLAR PAID Damage Non Running Cars Trucks

1689 West Street, Annapolis

20.4 miles

Interested users can talk with the welcoming owners of this salvage yard by this way: phone. In case you want to acquire high quality auto parts in the town of Annapolis (Maryland), they are an incredible pick. The TOP DOLLAR PAID Damage Non Running Cars Trucks is open Monday to Friday.

5

5. Highest Prices Paid

2023 M St NW, Washington

26 miles

This salvage yard aims to offer an highly proficient service at good prices, gathering a substantial breadth of supply but without giving up the guarantees demanded by its clients. Users have the possibility to locate this junkyard in the town of Washington (District of Columbia). More information: The Highest Prices Paid business hours information cannot be found, despite this you can see their web.Additionally, you may read 1 thoughts left by our visitors.

6

6. Rapid Towing & Salvage

4420 Braddock Rd, Alexandria

26.4 miles

They provide a very skilled service at great prices, gathering an extensive breadth of catalog and with the guarantees expected by its purchasers. You have the opportunity to meet this business near the city of Alexandria (Virginia). The Rapid Towing & Salvage is open from Monday to Friday.

7

7. Hercules Jacks Guaranteed Used Auto Parts

4000 S Four Mile Run Dr, Arlington

28.7 miles

Do you have an used vehicle or are you immersed in the search of cheap pieces suitable for your auto? This directory suggest a visit to this business, since it delivers an immense supply. More information: They're open from Monday to Friday.This business has been voted 2 times by previous users.

8

8. Smittys Auto Parts

8229 Baltimore Annapolis Blvd, Pasadena

29.3 miles

This business aims to provide a very specialized and professional service at lower prices, with a broad depht of inventory but without giving up the guarantees requested by its buyers. Visitors have the possibility to locate this wrecking yard in the town of Pasadena (Maryland). More info: They're open Monday to Friday.

9

9. Thomas's Junk Yard

Trappe

30.9 miles

Do you have sleeping in the garage a junk vehicle or are you looking for second hand pieces compatible with your auto? This site recommend a visit to this salvage yard, since it owns an immense inventory.

10

10. Cambridge Auto Recyclers

2057 Church Creek Rd, Cambridge

31 miles

If you are looking for the best second-hand pieces near the Cambridge area, this business can be an ideal election to purchase them at a low price. You have the opportunity to get in touch with them using: phone. They are open from Monday to Friday.