Tuscarawas Auto Parts


New Philadelphia, Ohio
Want to ADVERTISE this business?
Last update on October 10, 2017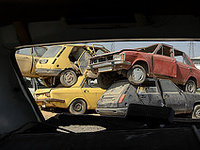 You can find this wrecking yard in the city of New Philadelphia (Ohio). It provides car parts and scrap metal to its customers. If you want to inquire on any used parts, junk car value estimation, sell or buy junk cars, you can contact the dealer via phone and email. The Tuscarawas Auto Parts is open Monday to Friday.
What you can find: car parts scrap metal
USA, Ohio, Tuscarawas, New Philadelphia
540 16th Street SW, New Philadelphia, OH (Zipcode: 44663)
https://www.pscmetals.com/buy-from-us/recycled-auto-parts/
Tuscarawas Auto Parts Schedule
Tuscarawas Auto Parts Reviews
Leave your opinion! Review Tuscarawas Auto Parts now
---
Junkyards near New Philadelphia
Find here other scrap yards in the area of New Philadelphia (Ohio):