Trudel Automobile inc.

JunkYard
Amos, Quebec
Want to ADVERTISE this business?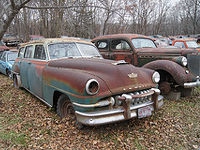 Owners who are aimed to find junk yards dedicated to the marketing of car parts close to the vicinity of Amos (Quebec), here they´ve a choice that won't deceive. These are professionals who thoroughly review the second-hand vehicle spare parts they trade and deliver the best warranties, so you can buy them with absolute confidence. In case you need to get in touch with them, you can do so: email, tollfree and phone. Additional information: The Trudel Automobile inc. opening hours information is not included so far but you can see its website.
What you can find: car parts
781, route 111 Ouest, C.P. 41, Amos, QC (Zipcode: J9T 3A5)
Trudel Automobile inc. Schedule
Trudel Automobile inc. Reviews
Leave your opinion! Review Trudel Automobile inc. now
Latest blog posts that may be of your interest
Junkyards near Amos
Review this list for additional scrap yards near the surroundings of Amos (Quebec):
Closest Junk Yards to Amos
Address
Distance
1880, 3e avenue, C.P. 307, Val d'Or
57.5 miles
You can economize hundreds of dollars on the reparation of your loved car by purchasing used parts with guarantee in this prominent in Val d'Or surroundings salvage yard. More info: The Centre de recyclage Universel ltée business schedule info is not included yet.
2625, route Mc Watters, Rouyn-Noranda
76.4 miles
They offer an highly efficient service at lower prices, with an excellent variety of inventory and with the warranties demanded by its customers. You can locate this business in the city of Rouyn-Noranda (Quebec). More information: The Perreault pièces d'autos inc. business schedule information is not included yet.