Cindy Lou's Auto Rekker

JunkYard
Timmins, Ontario
Want to ADVERTISE this business?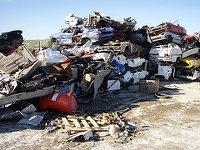 You can locate this salvage yard in the area of Timmins (Ontario). It provides car parts to its purchasers. If you want to ask on any second-hand parts, estimated junk car value, sell or buy junk car, you can get in touch with the business via phone and email. The Cindy Lou's Auto Rekker timetable info is not included yet.
What you can find: car parts
1366 Government Road North, Timmins, ON (Zipcode: P4N 7E3)
Cindy Lou's Auto Rekker Schedule
Cindy Lou's Auto Rekker Reviews
Leave your opinion! Review Cindy Lou's Auto Rekker now
Latest blog posts that may be of your interest
Junkyards near Timmins
Find here additional wrecking yards in the area of Timmins (Ontario):
Closest Junk Yards to Timmins
Address