Last update on August 21, 2014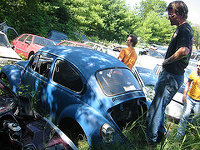 If you're looking for junk pieces which an fit your auto at the most competitive prices but without giving up the expected warranties in the surroundings of Ann Arbor (Michigan), this salvage yard certainly has what you want. Its business area is focused on the delivery of scrap metal, always with the most scrupulous quality control. You can also ask them if you need a quote for your second-hand auto or if you´re looking to buy an used auto at a good price. It´s viable to contact them by these methods: tollfree or phone. More info: The Swedish Engineering U.P.D. -Volvo Parts is open from Monday to Friday.
Their business model:
scrap metal
USA, Michigan, Washtenaw, Ann Arbor
669 State Circle, Ann Arbor, MI (Zipcode: 48108)
Business Hours
Swedish Engineering U.P.D. -Volvo Parts Comments
Share your comments below!
Need used parts? Submit your parts request for a quote
Improve your sales with us!
More than 1,000,000 monthly visitors
This page aims to offer you something else, apart from the contact information related to this salvage yard. We try to show our visitors additional search opportunities so that you can find the best junk spares as soon as possible. This list is sorted from closest to farthest from this location.
Find under this text additional salvage yards near the area of Ann Arbor (Michigan):