Last update on August 21, 2014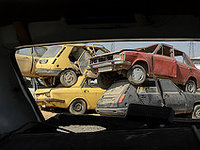 This junkyard based in the area of Kittanning (Pennsylvania), supplies car parts to its buyers. If you aim to inquire on any used vehicle spare parts, junk auto quotes, sell or acquire used vehicles, you can get in touch with them by tollfree, email and phone. The Stitt's 66 Auto Wrecking timetable information isn't offered so far.
What you can find:
car parts
USA, Pennsylvania, Armstrong, Kittanning
Operating Hours
Stitt's 66 Auto Wrecking Reviews
Share your comments here!
Need used parts? Submit your parts request for a quote
Improve your sales with us!
More than 1,000,000 monthly visitors
We couldn't be the finest junk yard repository online for the United States if we didn't provide you some extra elements in order to help you in your search for used parts.
Review this listing (which is arranged from nearest to furthest) for additional salvage yards close to the area of Kittanning (Pennsylvania).