Last update on August 21, 2014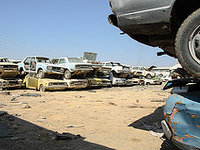 Close to the surroundings of Rockville (Maryland) is stablished this junkyard, which is perfect for users looking to purchase the finest used pieces for their vehicles, but without having to spend too much money. There you will be able to find classic parts, motorcycle parts, truck parts, snowmobile parts, atv parts, rv parts or car parts without giving up the best guarantees of the market and great customer attention. If you want to contact them, you can do so: phone, tollfree and email. More information: The SOUTHLAWN AUTO RECYCLERS is open Monday to Friday.
What they sell:
classic parts motorcycle parts truck parts snowmobile parts atv parts rv parts car parts
USA, Maryland, Montgomery, Rockville
316 Ridgemont Ave, Rockville, MD (Zipcode: 20850)
Operating Hours
SOUTHLAWN AUTO RECYCLERS Reviews
Place here your review now!
Need used parts? Submit your parts request for a quote
Improve your sales with us!
More than 1,000,000 monthly visitors
There exist a huge diversity of makes and models on the market, so there's a probability that you won't find the junk spares you are looking for in this salvage yard, regardless of its deep inventory. Don't worry, we have thought of everything and found other centers for you nearby.
This list (which is sorted from closest to farthest) gathers more junkyards close to the vicinity of Rockville (Maryland):
1

1. Southlawn Auto Recyclers Inc

15101 Southlawn Ln, Rockville

You can economize large amounts of money on the repairs of your dear auto by purchasing second-hand pieces with guarantee in this popular in Rockville area junk yard. They work from Monday to Friday.Additionally, you can check 1 thoughts left by our visitors.

2

2. Rockville Gm Used Auto Parts

212 Mason Dr, Rockville

The salvage yard listed here is situated near Rockville (Maryland) and it's offering the highest performance auto pieces to its potential visitors in the vicinity. If you need to inquire an estimation for your old auto or request for a specific second-hand spare-part, you can get in touch with them via phone.

3

3. Wise Incorporated

12200 Clarksville Pike, Clarksville

14 miles

This junk yard situated in the municipality of Clarksville (Maryland), delivers a very specialized and qualified service to its customers, with tremendous offers but without giving up the highest excellency and an immense variety of inventory. The Wise Incorporated is open from Monday to Friday.

4

4. Road Runner Wrecker Servi

45660 Woodland Rd, Sterling

14.5 miles

Residents of the Sterling vicinity have the possibility to buy an enormous inventory of second hand parts compatible with their autos in this junk yard. You can reach them via: phone. They are open Monday to Friday.

5

5. Highest Prices Paid

2023 M St NW, Washington

14.6 miles

This salvage yard aims to offer an highly proficient service at good prices, gathering a substantial breadth of supply but without giving up the guarantees demanded by its clients. Users have the possibility to locate this junkyard in the town of Washington (District of Columbia). More information: The Highest Prices Paid business hours information cannot be found, despite this you can see their web.Additionally, you may read 1 thoughts left by our visitors.

6

6. Hercules Jacks Guaranteed Used Auto Parts

4000 S Four Mile Run Dr, Arlington

14.8 miles

Do you have an used vehicle or are you immersed in the search of cheap pieces suitable for your auto? This directory suggest a visit to this business, since it delivers an immense supply. More information: They're open from Monday to Friday.This business has been voted 2 times by previous users.

7

7. A1 Crossroads

7260 Beverly Manor Dr, Annandale

17.6 miles

Habitants of the Annandale surroundings can obtain an extensive stock of second-hand spares that will fit with their cars in this business. It is possible to get in touch with them via: phone. Additional information: They work from Monday to Friday.

8

8. Rapid Towing & Salvage

4420 Braddock Rd, Alexandria

18.4 miles

They provide a very skilled service at great prices, gathering an extensive breadth of catalog and with the guarantees expected by its purchasers. You have the opportunity to meet this business near the city of Alexandria (Virginia). The Rapid Towing & Salvage is open from Monday to Friday.

9

9. Daves Auto Transport Ltd

PO Box 222633, Chantilly

19.8 miles

This business aims to provide a very specialized and competent assistance at lower prices, gathering an immense breadth of supply but without giving up the warranties requested by its purchasers. Users have the opportunity to reach this business near the town of Chantilly (Virginia). They work from Monday to Friday.Additionally, you may check 2 reviews in order to know more about this business.

10

10. Auto Recyclers of Leesburg

229 Depot Ct Se, Leesburg

21.5 miles

Users can locate this junkyard close to the environs of the municipality of Leesburg (Virginia). Its essential business area is the sale of auto parts with the most incredible prices in the state and with all the warranties that you could wish. If you are aimed to contact them, you can achieve this this way: phone. Other customers have shared 1 thoughts about this salvage yard.