Last update on August 21, 2014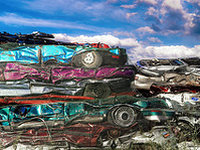 This salvage yard situated in the municipality of Mercer (Pennsylvania), offers scrap metal or car parts to its buyers. To inquire on any used vehicle pieces, estimated junk car value, get cash for second hand cars or junk vehicles for sale, feel free to get in touch with them by phone. The Sharon Auto Wrecking Incorporated timetable information isn't available yet, despite this you can check its website.
What you can buy:
scrap metal car parts
USA, Pennsylvania, Mercer, Mercer
Mercer, PA (Zipcode: 16137)
Operating Hours
Want to sell your junk car for cash?
Wanting to quickly get top dollar cash for your used car? If so, you come to the appropriate place.
Fill out the step-by-step form in under 2 minutes by giving the details regarding your vehicle.
Receive the purchase offer for your vehicle immediately and with no obligation. Discover the amount you will be paid for your car.
Get immediate payment and benefit from the ease of free towing service. Sell your vehicle with no worries, since it will be collected from wherever at no additional cost.
Sharon Auto Wrecking Incorporated Comments
Need used parts? Submit your parts request for a quote
Improve your sales with us!
More than 1,000,000 monthly visitors
We couldn't be the finest junk yard directory on internet for the U.S. if we didn't deliver you some additional elements to help you in your search for second-hand spare parts.
Review this listing (which is organized from closest to farthest) for more wrecking yards close to the area of Mercer (Pennsylvania).
1

1. Mercer Auto Wreckers Towing

748 Wilson Ave, Mercer

This junk yard located in the surroundings of Mercer (Pennsylvania), distributes an highly professional service to its shoppers, offering great bargains but without giving up the expected excellency and a vast variety of inventory. Additional info: This salvage yard opening hours info cannot be found yet.

2

2. Sharon Auto Wrecking Inc.

Rte 62, Mercer

Users have the possibility to locate this junkyard near the neighborhood of the town of Mercer (Pennsylvania). Its fundamental business model is the marketing of vehicle spares with the most incredible prices in the surroundings and providing all the warranties that you may require. In case you want to contact them, you can do it this way: phone.

3

3. Mercer Auto Wreckers

Mercer

The proper way to economize large amounts of money on second hand parts for your vehicle is by visiting a salvage yard and this is an outstanding election close to the Mercer area.

4

4. Eperthener Ronald Auto Wrckng

683 Tieline Rd, Grove City

9.2 miles

Do you own an aged vehicle or are you immersed in the search of second hand spare-parts for your auto? This site suggest a visit to this business, since it gathers a huge catalog. This salvage yard business hours information is not available yet.In addition, you may read 1 opinions left by our visitors.

5

5. Cascade Auto Wrecking Incorporated

2018 Parkview Blvd, Hermitage

10.9 miles

Neighbors of the Hermitage area have the possibility to access an extensive inventory of second hand parts suitable for their autos in this junk yard. It is possible to reach them using: phone. This business schedule info is not available but you can check its website.

6

6. Raiti Truck Salvage

Transfer

12 miles

It's easy to save a lot of money on the reparation of your dear vehicle by obtaining used parts with guarantee in this popular in Transfer area wrecking yard. This junk yard has been voted 1 times by our users.

7

7. Lou's Auto Parts & Service Inc.

Transfer

12 miles

Do you have an aged vehicle or are you trying hard to locate second hand spares for your auto? This site suggest a visit to this wrecking yard, since it provides an enormous catalog.

8

8. Sharon Auto Wrecking

Sharonmercer Rd, Sharon

13.5 miles

The best method to save large amounts of money on used pieces suitable for your car is to contact a salvage yard and this is a very good choice close to the Sharon location. Additional information: The Sharon Auto Wrecking schedule information is not available, however, you can check its website.This business has been rated 1 times by previous users.

9

9. Crash Frank Auto Wrecking

329 S Dock St, Sharon

13.5 miles

Purchasers have the opportunity to visit the friendly owners of this salvage yard by these methods: phone. If you want to obtain high quality vehicle spares in the municipality of Sharon (Pennsylvania), they are an incredible election. More info: This salvage yard opening hours information cannot be found yet.

10

10. Crash Brothers Autowrecking

Sharon

13.5 miles

Are you the owner of a decrepit vehicle or are you looking for cheap spares compatible with your auto? This directory suggest to approach this junk yard, since it offers a gargantuan catalog.