Last update on November 18, 2022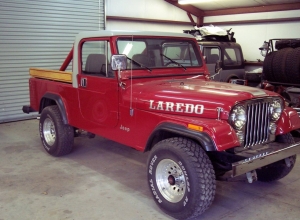 Purchasers can locate this junkyard in the surroundings of Statesboro (Georgia). This business offers car parts to its purchasers. If you want to inquire on any used parts, junk car value estimation, get cash for junk autos or junk cars for sale, you can contact the business by using email, phone and tollfree. The Salvage Jeep Parts is open from Monday to Friday.
Their business model:
car parts
USA, Georgia, Bulloch, Statesboro
2541 MILL CREEK RD, Statesboro, GA (Zipcode: 30461-7526)
Business Hours
Salvage Jeep Parts Comments
Need used parts? Submit your parts request for a quote
Improve your sales with us!
More than 1,000,000 monthly visitors
This section pretends to deliver you something else, as added to the contact information of this salvage yard. We work to give our visitors additional search options with the goal that you can find the cheaper junk spares in the shortest possible time. This list is sorted from nearest to farthest from this location.
Check here additional junk yards near the vicinity of Statesboro (Georgia):
1

1. Edward's Wrecking Yard Inc.

3180 Westside Rd, Statesboro

Customers have the possibility to visit the welcoming managers of this salvage yard by this way: email or phone. If you want to get high quality vehicle spares in the municipality of Statesboro (Georgia), they are an ineluctable election. The Edward's Wrecking Yard Inc. is open Monday to Saturday.

2

2. D & L Auto Crushing

639 Harveytown Rd, Pembroke

37.3 miles

Users have the possibility to reach this junkyard near the proximity of the municipality of Pembroke (Georgia). Its fundamental business model is the marketing of vehicle parts with the most incredible prices in the surroundings but without giving up all the guarantees that you could wish. In case you want to reach them, you can achieve it by these methods: phone.

3

3. Horton Mack

155 Jerrell Woods Rd, Guyton

37.8 miles

The best way to avoid wasting large amounts of money on second hand pieces suitable for your automobile is to contact a junkyard and this is an outstanding election close to the Guyton zone. More information: This salvage yard opening schedule info cannot be found yet.

4

4. Hadden Wrecking Co.

Swainsboro

55.2 miles

This junkyard wich operates in the city of Swainsboro (Georgia), offers an highly professional service to its customers, offering attractive discounts but without giving up the expected excellency and an immense variety of supply.

5

5. Performance Latemodel Auto Dismantling

Lyons

58.2 miles

This junkyard wants to distribute a very specialized and professional assistance at incredible prices, gathering a wide depht of catalog but without giving up the guarantees expected by its customers. You can find this business in the town of Lyons (Georgia).

6

6. McGraw's Auto Salvage

Hardeeville

68.5 miles

The junkyard listed here is placed close to Hardeeville (South Carolina) and it's offering incredible value vehicle pieces to its possible purchasers near the proximity. In case you are aimed to request an estimation for your old vehicle or plead for a specific second-hand spare-part, you can get in touch with them using tollfree, phone and email.

7

7. Grainger Auto Parts

60 Telfair Pl, Savannah

74.7 miles

The junk yard you are looking here is placed in Savannah (Georgia) and it's distributing top quality vehicle spares to its potential visitors in the neighborhood. In case you want to demand an estimation for your old automobile or request for a precise used spare, feel free to get in touch with them via phone, tollfree and email. Additionally, you may check 1 opinions in order to know more about this business.

8

8. European Autos, LTD.

Savannah

74.7 miles

The salvage yard we display here is settled in Savannah (Georgia) and it's offering the highest value vehicle parts to its potential clients near the proximity. If you need to request a quote for your used auto or plead for a particular junk part, you can contact them using tollfree, phone or email.

9

9. The Motor Cycle Recycle Center

Jackson

98 miles

This business settled in the town of Jackson (South Carolina), offers a very efficient service to its purchasers, offering great discounts but with the expected excellency and a broad variety of catalog.