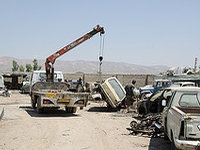 We sell used auto and truck parts and purchase salvaged vehicles. We have 10 acres of junk yard for parts. We buy second hand and wrecked cars for recycling. Located on Route 202 in King of Prussia, PA. 2 Miles from K. of P. MALL
auto parts store
towing service
USA, Pennsylvania, Montgomery, King of Prussia
150 E Dekalb Pike, King of Prussia, PA 19406
Operating Hours
Need used parts? Submit your parts request for a quote
There exist a colossal mixture of makes and models on the market, so there's a probability that you won't find the junk parts you're looking for in this junkyard, despite its impressive catalogue. Don't worry, we've thought of everything and gathered other centers for you nearby.
This listing (which is arranged from nearest to furthest) contains additional junk yards close to the surroundings of King of Prussia (Pennsylvania):
1

1. ROSSI AUTO SALVAGE, INC.

150 E Dekalb Pike, King of Prussia, PA 19406

auto parts store

towing service

Habitants of the King of Prussia vicinity have the opportunity to check a wide inventory of junk parts suitable for their vehicles in this salvage yard. You can get in touch with them via: email, phone and tollfree. They work from Monday to Saturday.This salvage yard has been voted 4 times by our users.

2

2. Shorty's Used Auto Parts

311 W 4th St, Bridgeport, PA 19405

used auto parts

self service

In case you are in the task of looking for the finest second-hand spares in the Bridgeport neighborhood, this salvage yard could be an ideal option to purchase them at a great price. You have the possibility to get in touch with them via: phone. This junkyard business hours info cannot be found yet.Additionally, you may read 3 thoughts in order to know more about this business.

3

3. NAPA Auto Parts

1030 N Broad St, Lansdale, PA 19446

used auto parts

shipping available

You can avoid wasting a lot of money on the repairs of your loved vehicle by obtaining junk pieces without giving up the expected warranties in this eminent in Lansdale vicinity junkyard. Contact them by: phone. Other customers have shared 3 reviews about this business.

4

4. Barney's Auto Parts Inc

1805 Bethlehem Pike, Hatfield, PA 19440

Purchasers can visit the attentive manager of this junkyard using these means: phone. In order to buy the best quality vehicle spares in the town of Hatfield (Pennsylvania), they are an ineluctable pick. Additionally, you can check 3 thoughts in order to know more about this business.

5

5. Sonny's Auto Parts

3100 S 61st St, Philadelphia, PA 19153

used auto parts store

used auto parts

In search of reliable and affordable used auto parts? Visit this business for a wide selection of car parts at great prices. Customers are raving about their trustworthy service and long-lasting products that keep their vehicles running smoothly. Whether it's a 1999 Nissan Frontier or any other model, this store has the parts you need to keep your vehicle on the road.

6

6. Cartel Used Auto Parts

6330 Passyunk Ave, Philadelphia, PA 19153

used auto parts

self service

Get ready to roll up your sleeves and search for your needed auto parts at this self-serve used auto parts store. With great customer service and reasonable prices, you'll find the parts you need without breaking the bank. Whether you're a DIY pro or just starting out, this store has what you need to get your car running smoothly again.

7

7. My Auto Store

6800 Essington Ave, Philadelphia, PA 19153

Browse a vast selection of used auto parts in good condition at this store. Customers rave about the economic prices and helpful staff who are always ready to assist with finding the right part for any make or model of vehicle. With a convenient location and extensive inventory, this store is a go-to destination for car enthusiasts and mechanics alike.

8

8. Tioga Recycle Metal

907 W Tioga St, Philadelphia, PA 19140

Get all the auto parts you need at this store, where you'll find a wide selection and helpful assistance. Customers rave about the knowledgeable staff who provide excellent service and swift solutions. With competitive prices and a convenient location, this place is the perfect one-stop shop for your automotive needs.

9

9. Guaranteed Used Auto Parts

423 W Luzerne St, Philadelphia, PA 19140

used auto parts

self service

At this self-serve salvage yard you can find a wide selection of used parts for your vehicle at cost-effective prices. With a vast inventory of cars and trucks, this junkyard is the go-to place for those in need of hard-to-find auto components. Whether it's for repairs or restoration projects, this salvage yard has everything you need to get your vehicle back on the road.

10

10. Nice Guys Auto

3506 S 61st St, Philadelphia, PA 19153

Find a wide selection of high-quality auto parts at a local store in Philly. Stock up on tires, rims, and other parts you need for your car or truck. Get excellent service from knowledgeable staff who will help you find what you need, all at reasonable and negotiable prices.