Recyclage Chaleurs inc.

JunkYard
Bonaventure, Quebec
Want to PROMOTE this business?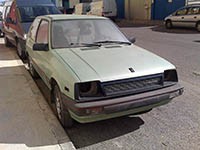 Purchasers have the opportunity to visit this wrecking yard close to the surroundings of Bonaventure (Quebec). It provides scrap metal to its clients. If you need to inquire about any used pieces, junk car vehicle quotes, sell or buy a junk car, you can get in touch with the business via email, tollfree and phone. The Recyclage Chaleurs inc. business schedule info is not included yet, however, you can check its website.
What you can find: scrap metal
Canada, Quebec, Bonaventure
274, Port Royal, Bonaventure, QC (Zipcode: G0C 1E0)
www.recyclagechaleurs.com
Recyclage Chaleurs inc. Schedule
Recyclage Chaleurs inc. Reviews
Leave your opinion! Review Recyclage Chaleurs inc. now
Latest blog posts that may be of your interest
Junkyards near Bonaventure
Check below more wrecking yards in the area of Bonaventure (Quebec):
Closest Junk Yards to Bonaventure
Address
142, St-Hilaire, C.P. 338, Grande-Rivière
Purchasers can locate the helpful owners of this business using these means: email and phone. In order to acquire high quality auto parts in the city of Grande-Rivière (Quebec), they are an incredible election. Additional information: The J.L.M. pièces d'autos inc. timetable information is not included yet.