Recyclage F. Picard inc.

JunkYard
Sept-Îles, Quebec
Want to ADVERTISE this business?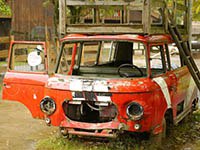 Placed close to the surroundings of Sept-Iles (Quebec), this junk yard is providing scrap metal to its potential clients. If you are aimed to inquire on any used pieces, junk car value estimation, get cash for junk cars or scrap autos for sale, you have the possibility to contact them by email, phone and tollfree. The Recyclage F. Picard inc. opening hours info is not available yet.
What you can find: scrap metal
Canada, Quebec, Sept-Îles
1893, boul. Laure, Sept-Iles, QC (Zipcode: G4R 4K1)
Recyclage F. Picard inc. Schedule
Recyclage F. Picard inc. Reviews
Leave your opinion! Review Recyclage F. Picard inc. now
Latest blog posts that may be of your interest
Junkyards near Sept-Iles
This list {provides | contains | offers | delivers | shows | displays | gathers} {more | additional} {wrecking yards | scrap yards | salvage yards | junk yards | junkyards} {in|near|close to} the {vicinity|neighborhood} of Sept-Îles (Quebec):
Closest Junk Yards to Sept-Îles
Address