Recuperation St-Laurent Inc
Recuperation St-Laurent Inc

JunkYard
Matane, Quebec
Want to ADVERTISE this business?
Last update on December 29, 2015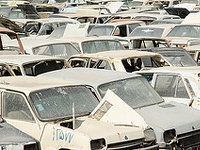 In the vicinity of Matane (Quebec) is situated this salvge yard, which is ideal for drivers looking to acquire the best second-hand pieces for their vehicles, but without having to spend excessive money. Here you will be able to find with the best warranties in the industry and excellent customer service. If you need to contact them, you can do so: phone and email. Additional info: The Recuperation St-Laurent Inc timetable info is not included yet.
What you can find:
161 rue Port, Matane, QC (Zipcode: G4W 3M6)
Recuperation St-Laurent Inc Schedule
Recuperation St-Laurent Inc Reviews
Leave your opinion! Review Recuperation St-Laurent Inc now
Latest blog posts that may be of your interest
Junkyards near Matane
This list contains additional junk yards in the neighborhood of Matane (Quebec):
Closest Junk Yards to Matane
Address
54, William Dobel, Baie-Comeau
They provide an highly efficient service at lower prices, with an excellent variety of inventory and with the guarantees demanded by its customers. Users can meet this junk yard in the municipality of Baie-Comeau (Quebec). Additional info: The B.C. pièces d'autos enr. opening hours information is not present yet.