Potts Auto Parts

JunkYard
Lexington, North Carolina
Want to ADVERTISE this business?
Last update on August 21, 2014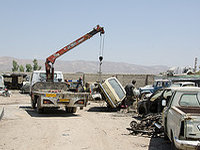 This scrap yard situated in the city of Lexington (North Carolina), offers car parts or scrap metal to its clients. To inquire on any used parts, estimated junk car value, get cash for junk cars or junk cars for sale, please contact via phone. The Potts Auto Parts is open Monday to Friday.
What you can find: scrap metal car parts
USA, North Carolina, Davidson, Lexington
2051 Giles Road, Lexington, NC (Zipcode: 27295)
Potts Auto Parts Schedule
Share your opinion! Review Potts Auto Parts now
---
Junkyards near Lexington
Check this list for additional scrap yards in the area of Lexington (North Carolina):