One Stop Auto

JunkYard
St. Louis, Prince Edward Island
Want to ADVERTISE this business?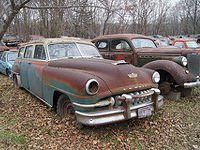 Visitors who are looking for junk yards dedicated to the sale of car parts in the surroundings of St. Louis (Prince Edward Island), here they have an option that won't disappoint. They are professionals who deeply check the junk auto parts they sell and deliver the most complete warranties, so you can acquire them with absolute tranquility. In case you need to contact them, you can do so: email, phone or tollfree. Additional information: The One Stop Auto business schedule information is not included yet, however, you can check its web.
What you can find: car parts
Canada, Prince Edward Island, St. Louis
3426 Smith Road, Rte 152, PO Box 22, St. Louis, PE (Zipcode: C0B 1Z0)
www.onestopautosalvage.ca
One Stop Auto Schedule
Share your opinion! Review One Stop Auto now
Latest blog posts that may be of your interest
Junkyards near St. Louis
Check this list for more wrecking yards in the area of St. Louis (Prince Edward Island):
Closest Junk Yards to St. Louis
Address
Distance
1796 Shediac River Road, Shediac River
77.4 miles
It's easy to economize large amounts of money on the maintenance of your well-liked vehicle by acquiring used spares with warranty in this popular in Shediac River surroundings junk yard. Additional info: The Bastarache Auto Salvage (1986) Ltd opening hours info is not included so far, however, you can review its web.
451 Brackley Point Road, Brackley
99.1 miles
They offer a very specialized and professional service at lower prices, with an excellent variety of catalog and with the guarantees requested by its customers. Visitors can meet this business in the city of Brackley (Prince Edward Island). More info: The Island Auto Supply opening hours info is not available yet, despite this you can see its web.