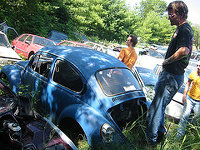 If you're aimed to look for second-hand parts for your auto at the most competitive prices but without giving up great guarantees close to the area of Old Town (Florida), this business surely has what you want. Its business area focuses on the delivery of car parts, classic parts and truck parts, always with the most scrupulous quality supervision. You can also ask them if you need a quote for your junk car or if you are interested in purchasing a second hand auto at a low price. It´s viable to get in touch with them by these means: phone, tollfree or email. More information: The OLD GOLD CARS business hours info isn't included so far.
car repair
used auto, truck & classic car parts
self service
USA, Florida, Dixie, Old Town
13571 State Rd 349, Old Town, FL 32680
Operating Hours
Place here your opinion now!
Need used parts? Submit your parts request for a quote
This page aims to deliver you something else, as added to the contact details of this salvage yard. We work to show our visitors additional search opportunities with the goal that you can locate nearby used pieces as soon as possible. This list is organized from nearest to farthest from this city.
Find below additional salvage yards near the surroundings of Old Town (Florida):