Last update on August 21, 2014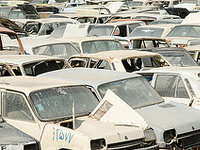 Buyers have the possibility to find this junkyard in the city of Rochester (Michigan). This business provides truck parts or car parts to its purchasers. In case you need to ask on any used pieces, junk car vehicle quotes, sell or buy a junk car, you can contact the dealer via email, tollfree and phone. The Michigan top dollar business hours info isn't offered so far.
What they sell:
car parts truck parts
USA, Michigan, Oakland, Rochester
Operating Hours
Michigan top dollar Comments
Need used parts? Submit your parts request for a quote
Improve your sales with us!
More than 1,000,000 monthly visitors
This page aims to deliver you a little more, apart from the contact info related to this salvage yard. We try to show our visitors more search opportunities with the goal that you can find nearby junk spares preventing you from wasting time. This listing is arranged from closest to furthest from this city.
Locate under these lines additional wrecking yards near the vicinity of Rochester (Michigan):
1

1. US Auto Supply of Sterling Heights

7575 18 1/2 Mile Rd, Sterling Heights

8.3 miles

Interested users can contact the welcoming managers of this salvage yard by this way: tollfree, phone or email. In order to acquire the best quality auto spares in the city of Sterling Heights (Michigan), they are an ineluctable option. Additional information: They are open Monday to Sunday.

2

2. LTM Auto Truck & Trailer

1591 E Highwood, Pontiac

8.6 miles

You can avoid wasting a lot of money on the maintenance of your dear vehicle by acquiring second-hand spare-parts without giving up the minimal warranties in this leading in Pontiac vicinity salvage yard. The LTM Auto Truck & Trailer is open Monday to Friday.

3

3. U-Pull and Save

240 E. Columbia, Pontiac

8.6 miles

You can avoid wasting large amounts of money on the repairs of your dear auto by getting second-hand spare parts with guarantee in this prominent in Pontiac vicinity salvage yard. They're open from Monday to Saturday.

4

4. Kazanjians Used Auto Parts

340 E Maple Rd, Birmingham

10.7 miles

Do you have sleeping in the garage an old car or are you immersed in the search of second-hand spares compatible with your auto? This directory suggest a visit to this business, since it offers a wide catalog. They work from Monday to Friday.

5

5. ABSOLUTE AUTO PARTS

Waterford

13.3 miles

Customers have the opportunity to find this junk yard in the proximity of the town of Waterford (Michigan). Its primary business area is the sale of vehicle parts at the lowest prices in the state but without giving up all the warranties that you may request. If you want to contact them, you can do it by these methods: email, tollfree or phone.

6

6. Macomb Auto Salvage

Warren

14.1 miles

If you are looking for the highest quality second-hand parts near the Warren surroundings, this junk yard is a perfect pick to purchase them at a low price. You have the possibility to contact them using: email, phone and tollfree.

7

7. Macomb Scrap & Auto Salvage Co.

26600 Bunert Rd, Warren

14.1 miles

This salvage yard situated in the surroundings of Warren (Michigan), provides a very specialized and efficient service to its buyers, offering excellent bargains but without giving up the best excellency and a large depht of catalog. They work from Monday to Friday.

8

8. Super Bike Mike's, Inc

Hazel Park

15.3 miles

The proper approach to save large amounts of money on spare parts for your automobile is by visiting a salvage yard and this is an attractive option in the Hazel Park surroundings.

9

9. Highway Auto Parts

29231 Groesbeck Hwy, Roseville

15.8 miles

This business aims to provide a very specialized and capable service at great prices, with an immense diversity of inventory and with the warranties demanded by its purchasers. Visitors have the possibility to meet this wrecking yard in the municipality of Roseville (Michigan). They are open from Monday to Friday.

10

10. Tracy Performance Corvette Parts & Service

29069 Calahan, Roseville

15.8 miles

The finest technique to avoid wasting hundreds of dollars on spare pieces suitable for your car is to contact a junkyard and this is an exceptional choice in the Roseville neighborhood. They are open Monday to Saturday.