McGiboney Salvage Inc

JunkYard
Oxford, Georgia
Want to ADVERTISE this business?
Last update on August 21, 2014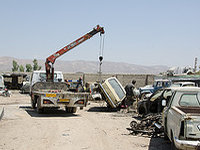 In the vicinity of Oxford (Georgia) is situated this junk yard, which is perfect for users looking to acquire the best used pieces for their cars, but without having to invest too much money. Here you will be able to purchase scrap metal with the best guarantees of the market and great customer service. If you need to get in touch with them, you can do so: phone or tollfree. Additional information: The McGiboney Salvage Inc is open from Monday to Sunday.
What you can find: scrap metal
USA, Georgia, Newton, Oxford
1059 Gum Creek Rd., Oxford, GA (Zipcode: 30054)
www.wix.com/christinayvettemcgib/McGiboneySalvageInc
McGiboney Salvage Inc Schedule
McGiboney Salvage Inc Reviews
Leave your opinion! Review McGiboney Salvage Inc now
---
Junkyards near Oxford
This list delivers additional junk yards in the neighborhood of Oxford (Georgia):