Marsh Auto Parts

JunkYard
Siler City, North Carolina
Want to ADVERTISE this business?
Last update on August 21, 2014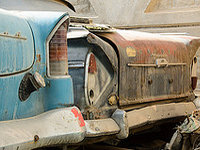 In the surroundings of Siler City (North Carolina) is situated this business, which is ideal for drivers looking to acquire the best used spares for their vehicles, but without having to spend excessive money. There you will be able to purchase car parts with the best warranties of the market and great customer service. If you want to get in touch with them, you can do so: phone, tollfree or email. Additional information: The Marsh Auto Parts opening schedule information is not included so far.
What you can find: car parts
USA, North Carolina, Chatham, Siler City
Marsh Auto Parts Schedule
Leave your opinion! Review Marsh Auto Parts now
---
Junkyards near Siler City
This list contains additional salvage yards in the neighborhood of Siler City (North Carolina):