Last update on May 17, 2021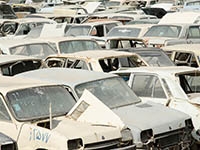 Wide variety of used late model and classic auto parts. If we don't have it we will get it. Have been in the Kittanning area for 45 years. All parts are guaranteed to be satisfied. Credit cards and shipping available. We will get the parts to you to your satisfaction.
What they sell:
car parts classic parts
USA, Pennsylvania, Armstrong, Kittanning
126 Midway st., Kittanning, PA (Zipcode: 16201)
Business Hours
Share your opinion below!
Need used parts? Submit your parts request for a quote
Improve your sales with us!
More than 1,000,000 monthly visitors
We couldn't be the best salvage yard database online for the United States if we didn't provide you some extra elements in order to assist you in your search for second-hand parts.
Review this listing (which is arranged from nearest to furthest) for additional junkyards close to the vicinity of Kittanning (Pennsylvania).
1

1. 66 Auto Wrecking

Rr 2, Kittanning

This business aims to provide a very qualified assistance at good prices, with a vast variety of inventory but without giving up the guarantees demanded by its buyers. Users can meet this junkyard near the town of Kittanning (Pennsylvania). More info: This salvage yard operational hours info is not available, despite this you have the possibility to check its website.

2

2. Rupp's Auto Wrecking

Kittanning

Habitants of the Kittanning neighborhood have the possibility to check a wide catalog of used spare-parts that can fit with their vehicles in this junk yard. It is possible to reach them via: phone and email.

3

3. Zimmermans Auto Wrecking

Rr 2, Kittanning

Buyers can find this junk yard in the surroundings of the city of Kittanning (Pennsylvania). Its essential business model is the marketing of vehicle spares with the most incredible prices in the state and offering all the guarantees that you could expect. In case you need to contact them, you can do this this way: phone.

4

4. Rupps Auto Wrecking

247 Clearfield Pike, Kittanning

Residents of the Kittanning surroundings have the possibility to obtain an immense supply of second hand spares suitable for their automobiles in this business. You can get in touch with them using: phone. Additional info: The Rupps Auto Wrecking timetable info is not available but you can visit their web.

5

5. Stitt's 66 Auto Wrecking

Kittanning

The proper method to avoid wasting hundreds of dollars on used parts suitable for your vehicle is by approaching a junk yard and this is an attractive election close to the Kittanning zone.

6

6. Lucchetti Auto

126 Midway Ave, Kittanning

Do you own a junk vehicle or are you looking for second hand spare parts compatible with your auto? This site recommend to approach this junkyard, since it delivers a huge catalog. The Lucchetti Auto is open Monday to Saturday.This business has been voted 1 times by our users.

7

7. DragEm Auto Wrecking

112 W Main St, Worthington

9.3 miles

Habitants of the Worthington surroundings have the possibility to purchase a wide catalog of junk spares for their automobiles in this wrecking yard. You can contact them using: phone. This junkyard opening hours information cannot be found yet.

8

8. Rankins Auto Wrecking Inc

Rr 2, Rural Valley

18 miles

Do you have sleeping in the garage an old car or are you immersed in the search of cheap spare parts suitable for your auto? This directory suggest a visit to this business, since it gathers a vast catalog. The Rankins Auto Wrecking Inc schedule information cannot be found, however, you can check its website.

9

9. Rankins Auto Wrecking Incorporated

216 N Jefferson St, Rural Valley

18 miles

In case you are looking for the finest junk spare parts in the Rural Valley vicinity, this wrecking yard is a good choice to get them at a great price. Feel free to get in touch with them via: phone. More information: This junk yard operational hours information does not appear in our database but you have the option to visit its website.

10

10. Rankin's Auto Wrecking

Rural Valley

18 miles

The best technique to save large amounts of money on second-hand parts for your automobile is by visiting a wrecking yard and this is a great pick near the Rural Valley surroundings.