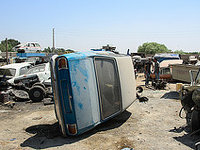 In case aimed to look for used spares compatible with your auto at the best prices but without compromising the expected warranties near the area of Brooklyn (New York), this junk yard probably provides what you want. Its business model targets on the distribution of , always including the most rigorous quality supervision. You can also inquire them if you want a quote for your junk vehicle or if you are interested in buying a second hand vehicle at a great price. It´s viable to get in touch with them by these methods: phone. More information: The Lemuel Auto Wrecking opening schedule info is not present so far, despite this you can see its web.
USA, New York, Kings, Brooklyn
217 Mckibben St, Brooklyn, NY 11206
Share your comments here!
Need used parts? Submit your parts request for a quote
This page aims to provide you a little more, as added to the contact info of this junkyard. We try to give our visitors more search options so that you can find your used parts preventing you from wasting time. This list is arranged from closest to furthest from this municipality.
Find under these lines additional wrecking yards in the surroundings of Brooklyn (New York):