Kloiber Auto Recycling

JunkYard
Holland, New York
Want to ADVERTISE this business?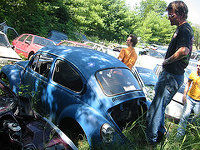 This wrecking yard located in the area of Holland (New York), sells classic parts, scrap metal, snowmobile parts, rv parts, car parts and truck parts to its visitors. To ask on any second-hand parts, junk auto value estimation, get cash for junk cars or junk cars for sale, please contact via phone, tollfree and email. The Kloiber Auto Recycling opening schedule info is not included so far.
What you can find: classic parts scrap metal snowmobile parts rv parts car parts truck parts
USA, New York, Erie, Holland
Kloiber Auto Recycling Schedule
Kloiber Auto Recycling Reviews
Share your opinion! Review Kloiber Auto Recycling now
---
Junkyards near Holland
Check this list for more wrecking yards in the area of Holland (New York):