Last update on August 21, 2014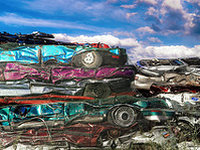 If you are aimed to look for second hand pieces compatible with your car at the lowest prices but without compromising good guarantees near the area of Slippery Rock (Pennsylvania), this wrecking yard surely provides what you want. Its business area is focused on the distribution of scrap metal, always with the most strict quality control. You can additionally ask them if you need a valuation of your second hand auto or if you are looking to buy an used auto at a low price. It is viable to get in touch with them by these methods: phone. Additional info: The Kennedy Diversified Incorporated business hours info isn't offered so far, however, you can access its web.
What they sell:
scrap metal
USA, Pennsylvania, Butler, Slippery Rock
3844 William Flynn Hwy, Slippery Rock, PA (Zipcode: 16057)
Business Hours
Want to sell your junk car for cash?
Looking to quickly get top dollar cash for your previously owned car? If so, you've found the correct spot.
Complete the step-by-step form in under 2 minutes by giving the details about your car.
Receive the purchase offer for your vehicle right away and with no obligation and find out the amount you will receive for your vehicle.
Get instant payment and benefit from the convenience of free towing service. Dispose of your car without worries, since it will be picked up from wherever at no extra cost.
Kennedy Diversified Incorporated Comments
Leave your opinion below!
Need used parts? Submit your parts request for a quote
Improve your sales with us!
More than 1,000,000 monthly visitors
This page wants to offer you a little more, as added to the contact info of this salvage yard. We work to show you additional search possibilities with the goal that you can find nearby second hand spares in the shortest possible time. This list is organized from nearest to farthest from this municipality.
Find under these lines additional junkyards in the vicinity of Slippery Rock (Pennsylvania):