Last update on July 28, 2016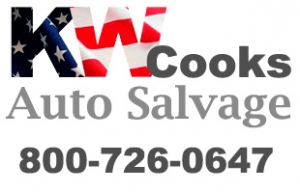 This salvage yard located in the city of Biloxi (Mississippi), provides good quality car parts to its customers. To ask about any used vehicle spares, junk car value estimation, sell or buy used cars, please contact them via phone or email. The K W Cook Auto Salvage, Inc. schedule information can be found below.
Their business model:
car parts
USA, Mississippi, Harrison, Biloxi
7414 Woolmarket Road, Biloxi, MS (Zipcode: 39532)
Operating Hours
KW Cooks Auto Salvage, Inc. Reviews
Need used parts? Submit your parts request for a quote
Improve your sales with us!
More than 1,000,000 monthly visitors
We could not call ourselves the finest salvage yard repository online for the U.S. if we didn't deliver you some extra components in order to assist you in your search for second-hand parts.
Browse this listing (which is sorted from closest to farthest) for more junk yards close to the area of Biloxi (Mississippi).