Last update on July 11, 2018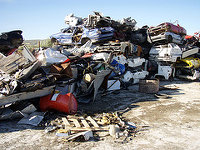 Located in the city of Picayune (Mississippi), this scrap yard is offering car parts to its potential customers. In order to ask about any spare parts, junk car value estimation, buy or sell scrap cars, please contact via phone, tollfree or email. The Dino`s Corvette Salvage schedule information can be located below.
Their business model:
car parts
USA, Mississippi, Pearl River, Picayune
3545 Hwy 43 N, Picayune, MS (Zipcode: 39466)
Operating Hours
Dino's Corvette Salvage, LLC Comments
Place here your comments here!
Need used parts? Submit your parts request for a quote
Improve your sales with us!
More than 1,000,000 monthly visitors
There is a huge assortment of makes and models on the market, so there's a possibility that you will not find the used spare parts you're looking for in this salvage yard, regardless of its deep inventory. Don't worry, we've thought of everything and found other centers for you nearby.
This listing (which is organized from closest to furthest) gathers additional junk yards close to the neighborhood of Picayune (Mississippi):