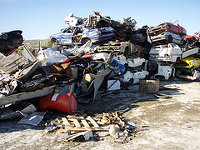 This junkyard located near the city of New Orleans (Louisiana), offers to its clients. If you aim to inquire on any used vehicle spare parts, junk auto quotes, trade or acquire junk vehicles, please contact by email, phone and tollfree. The City Auto Wreckers, Inc. business hours info is not offered yet.
salvage yard
used auto parts
self service
USA, Louisiana, Orleans, New Orleans
10123 Old Gentilly Rd, New Orleans, LA 70127
Business Hours
Need used parts? Submit your parts request for a quote
We couldn't be the best junk yard directory on internet for the U.S. if we didn't offer you some additional features in order to assist you in your search for second-hand parts.
Review this list (which is sorted from closest to farthest) for more junkyards close to the area of New Orleans (Louisiana).