Last update on April 9, 2016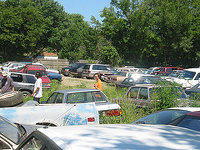 Owners who are looking for salvage yards specialized in the distribution of car parts in the vicinity of Manheim (Pennsylvania), here they have a choice that will not deceive. They are skilled professionals who deeply check the junk auto parts they distribute and deliver the expected guarantees, so you can buy them with absolute confidence. If you want to get in touch with them, you can do so: phone and email. More information: The J & D Auto Recycling Inc is open from Monday to Saturday.
What they sell:
car parts
USA, Pennsylvania, Lancaster, Manheim
3181 Lebanon Rd, Manheim, PA (Zipcode: 17545)
Operating Hours
J & D Auto Recycling Inc Comments
Need used parts? Submit your parts request for a quote
Improve your sales with us!
More than 1,000,000 monthly visitors
We could not call ourselves the finest junkyard database on internet for the U.S. if we didn't offer you some additional features to assist you in your search for used pieces.
Check this listing (which is sorted from nearest to furthest) for more junkyards near the area of Manheim (Pennsylvania).
1

1. Partsbyus

199 west stiegel street building c-d, Manheim

The ideal technique to avoid wasting hundreds of dollars on used parts suitable for your vehicle is to contact a junkyard and this is a great pick close to the Manheim area. The Partsbyus is open Monday to Saturday.Additionally, you can check 3 opinions in order to know more about this business.

2

2. J & D Auto Salvage

Manheim

This salvage yard located close to the town of Manheim (Pennsylvania), offers a very professional service to its purchasers, offering excellent bargains but with the highest excellency and an immense diversity of supply.

3

3. Dull's Used Parts & Recycling

Lititz

4.8 miles

Purchasers have the possibility to locate this junk yard close to the proximity of the municipality of Lititz (Pennsylvania). Its fundamental business model is the marketing of auto parts with the best prices in the state but without giving up all the guarantees that you may request. If you are aimed to contact them, you can achieve this by these methods: phone, email and tollfree.

4

4. Agreeable Auto Salvage

865 Milton Grove Rd, Mount Joy

6.8 miles

Do you have sleeping in the garage a decrepit car or are you looking for second hand spares suitable for your auto? This directory suggest to approach this junk yard, since it has an immense stock. This salvage yard business hours info is not available yet.

5

5. Mease's Auto Salvage

Elizabethtown

10.6 miles

Visitors can visit the welcoming owners of this salvage yard by these methods: tollfree, email or phone. In case you want to obtain high quality auto spares in the city of Elizabethtown (Pennsylvania), they are an ineludible choice.

6

6. Luttrells Auto Salvage Incorporated

4207 Roush Rd, Elizabethtown

10.6 miles

If you are looking for the finest junk parts near the Elizabethtown vicinity, this junkyard could be a suitable choice to buy them at a low price. Feel free to contact them using: phone. This salvage yard opening hours info is not available yet.

7

7. Brown's Used Auto Parts

Ephrata

11.2 miles

Customers can locate the attentive owners of this business by these methods: tollfree, phone or email. If you want to purchase the best quality vehicle spares in the municipality of Ephrata (Pennsylvania), they are an inescapable choice. In addition, you may read 1 reviews left by other users.

8

8. Valley V W'S

Stevens

12.1 miles

The business we show here is wich operates close to Stevens (Pennsylvania) and it's offering incredible performance auto parts to its eventual visitors close to the neighborhood. If you want to inquire a quote for your used vehicle or request for a particular junk spare, please get in touch with them via phone, email and tollfree.

9

9. Steiners Auto Parts

Lebanon

12.5 miles

This wrecking yard wich operates in the surroundings of Lebanon (Pennsylvania), delivers a very specialized and efficient service to its purchasers, with great discounts but without giving up the highest quality and a substantial variety of supply.

10

10. Weber Brothers Auto

Lebanon

12.5 miles

The ideal approach to save hundreds of dollars on used pieces suitable for your auto is by approaching a salvage yard and this is an excellent election in the Lebanon neighborhood.