Hope Import Auto Parts

JunkYard
Hope, British Columbia
Want to ADVERTISE this business?
Last update on December 29, 2015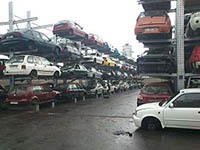 This salvage yard situated in the municipality of Hope (British Columbia), offers car parts to its purchasers. To inquire on any second-hand parts, junk auto quotes, sell or acquire used vehicles, you can get in touch with them via email, tollfree or phone. The Hope Import Auto Parts opening schedule info is not available so far, despite this you can review its website.
What you can find: car parts
Canada, British Columbia, Hope
22473 Ross Rd., Hope, BC (Zipcode: V0X 1L3)
Hope Import Auto Parts Schedule
Hope Import Auto Parts Reviews
Leave your opinion! Review Hope Import Auto Parts now
---
Junkyards near Hope
Review this list for more scrap yards in the surroundings of Hope (British Columbia):