Last update on December 29, 2015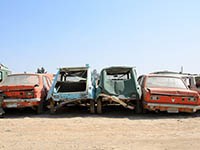 In case you are aimed to look for used pieces for your vehicle at the most competitive prices and with great warranties in the area of Chilliwack (British Columbia), this junk yard surely offers what you need. Its business model focuses on the distribution of car parts, always with the most meticulous quality control. You can additionally ask them if you need a valuation of your used car or if you are interested in buying a junk auto at a good price. It´s viable to get in touch with them by these methods: email and phone. Detailed information: The Ideal Auto Wrecking Ltd timetable information isn't included so far, however, you can check its website.
What they do:
car parts
Canada, British Columbia, Chilliwack
45150 Vedder Mountain Road, Chilliwack, BC (Zipcode: V2R 4C3)
Business Hours
Ideal Auto Wrecking Ltd Comments
Share your opinion below!
Need used parts? Submit your parts request for a quote
Improve your sales with us!
More than 1,000,000 monthly visitors
This page aims to deliver you something else, as added to the contact info of this salvage yard. We try to show our users more search opportunities with the goal that you can locate your used spare parts in the shortest possible time. This list is arranged from nearest to farthest from this city.
Check below additional wrecking yards near the surroundings of Chilliwack (British Columbia):