Last update on August 21, 2014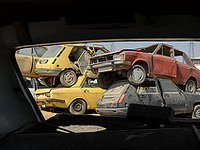 Stablished close to the surroundings of Biloxi (Mississippi), this junkyard is offering car parts to its eventual clients. In order to ask on any used vehicle parts, estimated junk car value, purchase or sell scrap cars, feel free to reach them via email, phone and tollfree. The Holley's Wrecking Yard opening hours info is not present so far.
What they do:
car parts
USA, Mississippi, Harrison, Biloxi
Operating Hours
Holley's Wrecking Yard Reviews
Need used parts? Submit your parts request for a quote
Improve your sales with us!
More than 1,000,000 monthly visitors
There is a huge variety of makes and models for sale, so there is a possibility that you won't locate the used parts you are looking for in this junkyard, regardless of its deep catalogue. Don't worry, we've thought of everything and retrieved other recyclers for you very close.
This listing (which is organized from nearest to furthest) contains additional junk yards in the vicinity of Biloxi (Mississippi):