Hébert C. garage inc.

JunkYard
Sainte-Hélène-de-Bagot, Quebec
Want to ADVERTISE this business?
Last update on December 29, 2015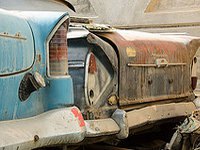 If you are looking for used pieces for your autos at the lowest prices and with good guarantees in the vicinity of Sainte-Hélène-de-Bagot (Quebec), this junk yard certainly has what you need. Its business model focuses on the delivery of , always with the most meticulous quality control. You can additionally ask them if you need a valuation of your used car or if you are looking to buy a junk auto at a low price. It is viable to get in touch with them by these means: email, phone and tollfree. Additional information: The Hébert C. garage inc. opening schedule info is not present so far, despite this you can check its web.
What you can find:
Canada, Quebec, Sainte-Hélène-de-Bagot
538, 3e Rang, Sainte-Hélène-de-Bagot, QC (Zipcode: J0H 1M0)
ghebert@cablemonteregie.com
Hébert C. garage inc. Schedule
Hébert C. garage inc. Reviews
Leave your opinion! Review Hébert C. garage inc. now
---
Junkyards near Sainte-Hélène-de-Bagot
Locate below additional wrecking yards in the vicinity of Sainte-Hélène-de-Bagot (Quebec):