Last update on December 29, 2015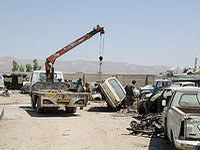 This junk yard placed in the municipality of Grande Prairie (Alberta), sells car parts to its purchasers. If you aim to ask about any used parts, junk auto quotes, trade or get junk vehicles, you can get in touch with them by email, tollfree and phone. The Harry's Auto Wrecking timetable information is not included so far, despite this you can access its web.
Their business model:
car parts
Canada, Alberta, Grande Prairie
10032-128 Ave, Grande Prairie, AB (Zipcode: T8V 6K7)
Business Hours
Harry's Auto Wrecking Comments
Need used parts? Submit your parts request for a quote
Improve your sales with us!
More than 1,000,000 monthly visitors
We couldn't be the finest junkyard database on internet for the United States if we didn't offer you some additional components in order to help you in your search for junk pieces.
Review this list (which is organized from closest to farthest) for more wrecking yards close to the vicinity of Grande Prairie (Alberta).
1

1. Belsum Auto Recyclers

Box 241, Dawson Creek

69.6 miles

The junk yard listed here is situated in Dawson Creek (British Columbia) and it's distributing the best value auto parts to its eventual purchasers close to the environs. If you need to inquire a valuation for your junk auto or request for a precise second-hand spare, please get in touch with them using phone or email. This business has been voted 1 times by our visitors.