Last update on December 29, 2015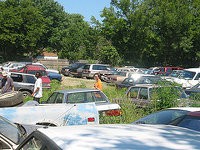 This junkyard placed in the city of Berthierville (Quebec), provides car parts to its customers. To inquire on any used parts, junk auto quotes, get cash for junk vehicles or second-hand autos for sale, you can contact by phone, email and tollfree. The H. Lambert pièces d'autos inc. opening schedule info isn't available so far.
What you can find:
car parts
Canada, Quebec, Berthierville
1380, Notre-Dame, Berthierville, QC (Zipcode: J0K 1A0)
Operating Hours
H. Lambert pièces d'autos inc. Reviews
Share your comments here!
Need used parts? Submit your parts request for a quote
Improve your sales with us!
More than 1,000,000 monthly visitors
We couldn't be the leading junk yard database online for the United States if we didn't provide you some extra components to assist you in your search for second-hand spare parts.
Browse this listing (which is sorted from closest to farthest) for additional wrecking yards near the area of Berthierville (Quebec).
1

1. Garage S. Noël pièces d'autos inc.

241, route 343, Saint-Ambroise-de-Kildare

17.6 miles

The salvage yard listed here is settled in Saint-Ambroise-de-Kildare (Quebec) and it's delivering top condition vehicle parts to its eventual purchasers close to the neighborhood. If you are aimed to demand a quote for your used auto or request for a specific used piece, you can get in touch with them via email, tollfree or phone.

2

2. Fast Auto parts and metals inc.

1371, rang St-Charles, L'Épiphanie

22.5 miles

Citizens of the L'Épiphanie vicinity have the opportunity to purchase an enormous catalog of junk spares for their autos in this business. You can reach them using: tollfree, phone or email.

3

3. Brassard Pièces d'autos inc.

1410, rue Principale, C.P. 367, Saint-Amable

29.9 miles

Are you the owner of an old car or are you immersed in the search of second-hand spare parts compatible with your auto? This directory recommend to approach this salvage yard, since it owns a wide inventory.

4

4. Quesnel Yves Automobiles inc.

1476, chemin St-Henri, Mascouche

30.6 miles

Customers have the possibility to contact the helpful managers of this junk yard by this way: tollfree, email or phone. In order to buy high quality auto pieces in the city of Mascouche (Quebec), they are an inescapable choice.

5

5. Hébert C. garage inc.

538, 3e Rang, Sainte-Hélène-de-Bagot

32.2 miles

They offer a very specialized and proficient assistance at good prices, with a generous diversity of inventory but without giving up the warranties expected by its customers. You have the possibility to reach this junkyard in the town of Sainte-Hélène-de-Bagot (Quebec). This salvage yard timetable information cannot be found, despite this you can check its web.

6

6. Ste-Claire recycleur inc.

1761, Ste-Claire, La Plaine

34.6 miles

Visitors have the opportunity to talk with the helpful managers of this wrecking yard using these means: email, tollfree or phone. In case you want to acquire high quality auto spares in the municipality of La Plaine (Quebec), they are an incredible choice.

7

7. Camions Lussier- Lussicam

1341, rue Principale, Sainte-Julie

35.3 miles

Are you the owner of a junk vehicle or are you looking for used spares for your auto? This site suggest a visit to this wrecking yard, since it has a vast supply. This junkyard opening schedule info is not available yet.

8

8. Hamel pièces d'autos inc.

1739, Jérôme-Hamel, Trois-Rivières

35.3 miles

The proper way to economize large amounts of money on second hand pieces suitable for your car is to contact a junkyard and this is a great option in the Trois-Rivières location.

9

9. St-Mathieu pièces d'autos usagées inc.

3104, Bernard Pilon, Beloeil

35.7 miles

Neighbors of the Beloeil area have the opportunity to check a large catalog of second-hand parts suitable for their vehicles in this wrecking yard. It is possible to get in touch with them via: email, phone or tollfree.

10

10. Tourville pièces d'autos inc

5065, chemin Tourville, Drummondville

36.3 miles

If you are looking for the best used spare parts in the Drummondville surroundings, this wrecking yard can be a perfect choice to obtain them at a great price. You can contact them via: email, phone or tollfree.