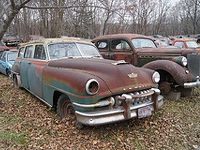 This scrap yard located in the city of Kingston (Nova Scotia), provides car parts to its customers. To ask about any used vehicle pieces, junk car value estimation, sell or buy used cars, please contact via phone or email. The Greg Banks Auto Salvage schedule information not available.
Canada, Nova Scotia, Kingston
841 Vault Road, RR # 2, Kingston B0P 1R0
Business Hours
Need used parts? Submit your parts request for a quote
We couldn't be the best junk yard database online for the United States if we didn't deliver you some additional features to help you in your search for used parts.
Browse this listing (which is organized from nearest to farthest) for additional wrecking yards close to the vicinity of Kingston (Nova Scotia).