Dugas Auto Recyclers & Rebuilders
Dugas Auto Recyclers & Rebuilders

JunkYard
Digby County, Nova Scotia
Want to PROMOTE this business?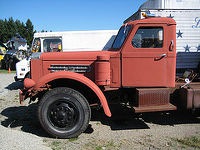 If looking for used pieces compatible with your car at the most competitive prices but without compromising great guarantees near the surroundings of Digby County (Nova Scotia), this junk yard probably has what you want. Its business model targets on the distribution of car parts and scrap metal, always including the most rigorous quality control. You can additionally ask them if you need a quote for your junk auto or if you´re aimed to buy a junk auto at a good price. It´s viable to contact them by these means: email, tollfree and phone. Additional information: The Dugas Auto Recyclers & Rebuilders business schedule information is not included yet, despite this you can review its web.
What you can find: scrap metal car parts
Canada, Nova Scotia, Digby County
RR#1 Church Point, Digby County, NS (Zipcode: B0W 1M0)
www.dugasautorecyclers.com
Dugas Auto Recyclers & Rebuilders Schedule
Dugas Auto Recyclers & Rebuilders Reviews
Leave your opinion! Review Dugas Auto Recyclers & Rebuilders now
Latest blog posts that may be of your interest
Junkyards near Digby County
Locate under these lines additional wrecking yards near the area of Digby County (Nova Scotia):
Closest Junk Yards to Digby County
Address
Distance
RR#1, Digby
28.8 miles
Neighbors of the Digby area can buy an enormous catalog of junk spare parts compatible with their vehicles in this junkyard. You can contact them using: email, phone or tollfree. Detailed info: The Brinton's Auto Salvage timetable information is not present so far, however, you can check its web.
113 Villagedale Road, Barrington
90.2 miles
This salvage yard situated close to the municipality of Barrington (Nova Scotia), delivers a very specialized and efficient service to its customers, with incredible offers but without giving up the best quality and an extensive breadth of inventory. Interested buyers have the option to reach them using: email and phone.
13 Brown Street, Kingston
91.9 miles
Do you have sleeping in the garage a junk car or are you immersed in the search of second-hand spares for your auto? We advise you to approach this wrecking yard, since it gathers a wide supply. Detailed info: The Brown's Auto Salvage business schedule info is not included so far but you can review its website.
841 Vault Road, RR # 2, Kingston
91.9 miles
Buyers have the possibility to locate the welcoming owners of this junkyard by these methods: email or phone. If you want to get high quality vehicle spares in the city of Kingston (Nova Scotia), they are an incredible choice. More information: The Greg Banks Auto Salvage is open Monday to Saturday.