Green's Auto Parts

JunkYard
Fredericton, New Brunswick
Want to PROMOTE this business?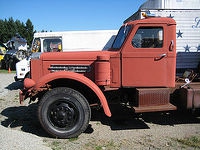 In case you are immersed in the search of junk pieces which an fit your auto at the lowest prices and with great warranties close to the vicinity of Fredericton (New Brunswick), this junk yard probably offers what you need. Its business model is focused on the distribution of car parts, always with the most strict quality supervision. You can additionally inquire them if you want a valuation of your junk auto or if you´re looking to buy a junk auto at a good price. It´s feasible to get in touch with them by these methods: tollfree, phone or email. More info: The Green's Auto Parts business hours information is not present yet.
What you can find: car parts
Canada, New Brunswick, Fredericton
2790 Woodstock Road, Fredericton, NB (Zipcode: E3C 1P9)
Green's Auto Parts Schedule
Green's Auto Parts Reviews
Share your opinion! Review Green's Auto Parts now
Latest blog posts that may be of your interest
Junkyards near Fredericton
Find here more salvage yards close to the vicinity of Fredericton (New Brunswick):
Closest Junk Yards to Fredericton
Address
Distance
1394 Alison Blvd, Fredericton
Citizens of the Fredericton neighborhood can purchase an immense supply of second-hand spares for their cars in this junk yard. It is possible to reach them via: phone, tollfree or email. Detailed info: The Capital City Auto Parts Ltd business schedule info is not included yet.
O'Dell Loop, Hampton
78.3 miles
Neighbors of the Hampton zone have the possibility to obtain a huge stock of second hand spare parts for their automobiles in this salvage yard. You can contact them via: tollfree, email or phone. More information: The Reynold's Auto Salvage business schedule information is not included yet but you can review its web.
695 Old Black River Road, Saint John
88.2 miles
Do you own an used vehicle or are you trying hard to locate used pieces for your auto? This directory recommend a visit to this business, since it offers a wide supply. Detailed information: The A Lot Of Auto is open from Monday to Friday.
3 Cottage Road, Saint John
88.2 miles
The junkyard we show here is located near Saint John (New Brunswick) and it's distributing high value vehicle pieces to its possible visitors close to the vicinity. If you want to inquire a quote for your used car or ask for a particular second-hand spare-part, please get in touch with them via phone and email.
695 old black river road, Saint John
88.2 miles
It's easy to save a lot of money on the repairs of your beloved car by buying junk parts with guarantee in this prominent in Saint John area salvage yard. More info: The Alotofauto Recyclers is open Monday to Friday.
Houlton
91.8 miles
They distribute a very capable assistance at incredible prices, gathering a broad depht of inventory but without giving up the warranties requested by its purchasers. Visitors have the possibility to meet this junkyard in the town of Houlton (Maine). More information: The Northern Towing & Recovery opening hours information is not available yet.