Last update on August 21, 2014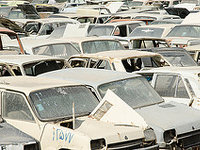 This junk yard located in the city of Dallas (Texas), provides car parts, truck parts and classic parts to its purchasers. To inquire about any second-hand pieces, estimated junk car value, obtain money for second hand vehicles or second-hand cars for sale, feel free to contact via email, tollfree and phone. The Granny's Auto Salvage business schedule information isn't offered yet.
What they do:
classic parts truck parts car parts
USA, Texas, Dallas, Dallas
Operating Hours
Granny's Auto Salvage Comments
Place here your opinion here!
Need used parts? Submit your parts request for a quote
Improve your sales with us!
More than 1,000,000 monthly visitors
We could not call ourselves the best salvage yard repository online for the U.S. if we didn't deliver you some extra elements in order to help you in your search for junk pieces.
Browse this listing (which is arranged from nearest to farthest) for more junk yards in the surroundings of Dallas (Texas).