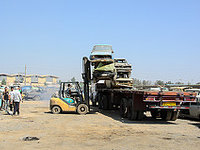 Buyers have the opportunity to locate this junkyard near the vicinity of Cleveland (Georgia). This business delivers to its visitors. In case you want to ask on any used pieces, estimated junk car value, sell or purchase a junk car, you can contact the business via phone. The German Auto Dismantlers opening schedule info is not available so far, despite this you can check its web.
USA, Georgia, White, Cleveland
4404 New Bridge Rd, Cleveland 30528
Leave your comments here!
Need used parts? Submit your parts request for a quote
This page wants to offer you something else, apart from the contact info related to this salvage yard. We try to show our visitors more search opportunities so that you can find nearby second hand spares as soon as possible. This list is sorted from closest to farthest from this location.
Check under this text other wrecking yards in the vicinity of Cleveland (Georgia):