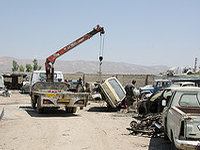 If you're looking for the best Second-hand Vehicle Parts, Batteries and Tires at the Lowest Prices and Great Warranty, visit us at General Auto Parts, situated in Rockford for all your brand new & second-hand vehicle parts.

- We deliver all pieces nationwide, contact us right now!

- Delivering Rockford, Chicago, southern Wisconsin and northern Illinois and other locations!.

- We provide free delivery to body shops, garages and repair centers in our regional serving area including Chicago.

If you are looking for domestic or import spares, brand new or second-hand tires to repair your auto, please phone us a now! Extended warranties available. You have just chosen the most efficient and cheap way to get professionally tested quality recycled vehicle pieces for your auto.
USA, Illinois, Winnebago, Rockford
715 Kennon Rd, Rockford, IL 61109
Need used parts? Submit your parts request for a quote
We could not call ourselves the best junkyard repository on internet for the United States if we didn't offer you some extra components in order to help you in your search for used spare parts.
Browse this list (which is arranged from closest to furthest) for additional salvage yards near the area of Rockford (Illinois).