Garage Gaetan St-Laurent Inc
Garage Gaetan St-Laurent Inc

JunkYard
Kedgwick, New Brunswick
Want to ADVERTISE this business?
Last update on December 29, 2015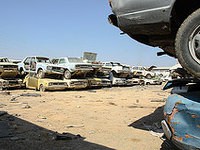 Located in the surroundings of Kedgwick (New Brunswick), this business is delivering to its potential customers. In order to ask on any used pieces, junk car value estimation, buy or sell scrap cars, please contact them by phone and email. The Garage Gaetan St-Laurent Inc opening schedule info is not available yet.
What you can find:
Canada, New Brunswick, Kedgwick
7511 Route 17, Kedgwick, NB (Zipcode: E8B 1W4)
Garage Gaetan St-Laurent Inc Schedule
Garage Gaetan St-Laurent Inc Reviews
Share your opinion! Review Garage Gaetan St-Laurent Inc now
Latest blog posts that may be of your interest
Junkyards near Kedgwick
This list delivers more junk yards in the vicinity of Kedgwick (New Brunswick):
Closest Junk Yards to Kedgwick
Address