Last update on August 21, 2014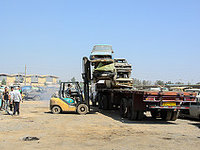 In case you're aimed to look for second-hand parts for your car at the lowest prices but without giving up the expected guarantees near the vicinity of Winchester (Virginia), this junk yard certainly has what you want. Its business area is focused on the distribution of car parts or scrap metal, always including the most scrupulous quality supervision. You can additionally ask them if you want a valuation of your second-hand car or if you are looking to buy a junk auto at a good price. It´s viable to contact them by these methods: phone. Detailed info: The G & G Auto Recycling Inc is open Monday to Friday.
What they do:
scrap metal car parts
USA, Virginia, Frederick, Winchester
183 Round Hill Rd, Winchester, VA (Zipcode: 22602)
Business Hours
Want to sell your junk car for cash?
Hoping to easily get top dollar cash for your old auto? If that's the case, you come to the right place.
Fill out the step-by-step form in under 2 minutes by providing the details regarding your vehicle.
Without obligation, receive the purchase offer for your car immediately. See the sum you will be paid for your vehicle.
Get instant payment and enjoy the convenience of free towing service. Get rid of your vehicle with no worries, as it will be picked up from wherever at no additional cost.
G & G Auto Recycling Inc Comments
Need used parts? Submit your parts request for a quote
Improve your sales with us!
More than 1,000,000 monthly visitors
This page wants to provide you something else, as added to the contact information related to this salvage yard. We try to show you additional search options so that you can find the best second hand spare parts in the shortest possible time. This list is sorted from closest to farthest from this location.
Find below more wrecking yards close to the vicinity of Winchester (Virginia):
1

1. G & G Auto Recycling Incorporated

Route 50 W, Winchester

The junkyard we show here is settled close to Winchester (Virginia) and it's distributing the greatest performance vehicle parts to its eventual buyers close to the proximity. If you are aimed to request an estimation for your used car or ask for a specific second-hand piece, please contact them using phone. Other visitors have shared 1 opinions about this salvage yard.

2

2. C & J Salvage

Gerrardstown

14.2 miles

Interested users have the opportunity to talk with the welcoming managers of this salvage yard by these methods: email, tollfree or phone. If you are aimed to buy the best quality auto spares in the municipality of Gerrardstown (West Virginia), they are an inescapable choice.

3

3. Algers Auto Recycling

211 E Park Ave, Ranson

18.5 miles

This wrecking yard wich operates close to the surroundings of Ranson (West Virginia), offers an highly competent service to its buyers, with excellent discounts but with the highest quality and a massive diversity of catalog. They work from Monday to Friday.

4

4. Eagle Auto Parts

Martinsburg

23 miles

If you are looking for the cheapest second-hand spares in the Martinsburg zone, this wrecking yard can be an ideal election to purchase them at a great price. You have the possibility to get in touch with them using: phone, tollfree or email.

5

5. Auto Recyclers of Leesburg

229 Depot Ct Se, Leesburg

33.6 miles

Users can locate this junkyard close to the environs of the municipality of Leesburg (Virginia). Its essential business area is the sale of auto parts with the most incredible prices in the state and with all the warranties that you could wish. If you are aimed to contact them, you can achieve this this way: phone. Other customers have shared 1 thoughts about this salvage yard.

6

6. D & D Auto Recycling

14829 Bottom Rd, Williamsport

34.8 miles

This salvage yard wich operates near the surroundings of Williamsport (Maryland), delivers a very efficient service to its purchasers, offering tremendous offers but with the expected quality and a broad variety of supply. Additional information: They're open Monday to Friday.Additionally, you may read 1 opinions left by our visitors.

7

7. Airport Auto Parts

568 Airport Rd, Luray

38.3 miles

This junkyard situated near the city of Luray (Virginia), offers a very efficient service to its clients, offering incredible discounts but without giving up the highest excellency and a wide depht of catalog. More info: The Airport Auto Parts is open from Monday to Friday.Other users have shared 1 thoughts about this junk yard.

8

8. Road Runner Wrecker Servi

45660 Woodland Rd, Sterling

42.9 miles

Residents of the Sterling vicinity have the possibility to buy an enormous inventory of second hand parts compatible with their autos in this junk yard. You can reach them via: phone. They are open Monday to Friday.

9

9. Best Foreign Car Parts

Frederick

44.2 miles

The best approach to save hundreds of dollars on used parts for your vehicle is to contact a wrecking yard and this is a very good option near the Frederick location.

10

10. Stup's Auto Center

Frederick

44.2 miles

Neighbors of the Frederick surroundings can purchase a huge catalog of used spare parts that can fit with their cars in this junk yard. It is possible to get in touch with them via: email, tollfree and phone.