Last update on August 21, 2014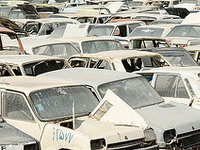 In case immersed in the search of used pieces compatible with your car at the lowest prices but without giving up great warranties near the vicinity of Westbury (New York), this junkyard probably provides what you need. Its business model focuses on the distribution of car parts or scrap metal, always including the most meticulous quality control. You can additionally inquire them if you want a valuation of your second-hand car or if you are interested in buying a second hand auto at a good price. It is possible to contact them by these means: phone. Additional information: The Frank & Sons Auto Wrecking business schedule information is not present yet but you can review its web.
Their business model:
scrap metal car parts
USA, New York, Nassau, Westbury
132 Hopper St, Westbury, NY (Zipcode: 11590)
Operating Hours
Frank & Sons Auto Wrecking Reviews
Need used parts? Submit your parts request for a quote
Improve your sales with us!
More than 1,000,000 monthly visitors
This page wants to offer you a little more, as added to the contact information of this salvage yard. We try to give our users additional search opportunities so that you can find the cheaper junk parts preventing you from wasting time. This listing is organized from nearest to farthest from this location.
Find under these lines other junk yards close to the vicinity of Westbury (New York):