Flemings Auto Recycling

JunkYard
Irwinton, Georgia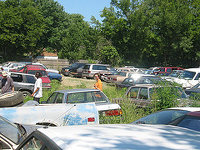 Purchasers who are looking for businesses dedicated to the distribution of car parts or scrap metal close to the vicinity of Irwinton (Georgia), here they have an option that won't deceive. These are specialists who deeply check the junk vehicle parts they trade and provide the most complete guarantees, so you can buy them with total tranquility. In case you need to contact them, you can do so: phone. Detailed info: The Flemings Auto Recycling opening hours information isn't offered yet, despite this you can browse its website.
What they sell: scrap metal car parts
USA, Georgia, Wilkinson, Irwinton
125 Mt Carmel Rd, Irwinton, GA (Zipcode: 31042)
Improve your sales with us!
More than 1,000,000 monthly visitors
Flemings Auto Recycling Schedule
Flemings Auto Recycling Comments
We could not call ourselves the leading junk yard directory online for the United States if we didn't provide you some additional elements in order to assist you in your search for second-hand spare parts.
Review this list (which is arranged from nearest to farthest) for more junkyards close to the area of Irwinton (Georgia).
Closest Junk Yards to Irwinton
Address
Distance
Sandersville
38.6 miles
Inhabitants of the Sandersville vicinity have the opportunity to obtain an immense catalog of used spares compatible with their autos in this business. It is possible to get in touch with them via: email, phone or tollfree. More information: The Avant Salvage Company opening schedule info isn't present so far.
919 ga hwy 49, Macon
45 miles
The junk yard we display here is wich operates near Macon (Georgia) and it's providing top performance vehicle parts to its possible customers close to the proximity. If you are aimed to demand an estimation for your used car or ask for a precise junk piece, feel free to contact them using email, tollfree and phone.
919 Ga Highway 49, Macon
45 miles
In case you are in the task of looking for the best second hand spares near the Macon neighborhood, this salvage yard can be a good choice to purchase them at a low price. Feel free to get in touch with them using: phone. More information: The Peacocks Auto Salvage business schedule info isn't available yet but you can check its website.
11128 N HIGHWAY 247, Warner Robins
48.5 miles
The salvage yard we display here is settled near Warner Robins (Georgia) and it's delivering the highest condition auto pieces to its potential purchasers near the proximity. In case you want to inquire a valuation for your old automobile or plead for a precise junk spare-part, you can get in touch with them via phone.
Byron
57.2 miles
Interested users have the opportunity to reach this junkyard close to the vicinity of the town of Byron (Georgia). Its fundamental business area is the distribution of auto parts at the most reasonable prices in the surroundings but without giving up all the warranties that you may expect. In case you want to contact them, you can achieve it by these methods: email, tollfree or phone.
Forsyth
76 miles
This business wich operates near the surroundings of Forsyth (Georgia), provides a very specialized and efficient service to its buyers, with attractive discounts but with the highest excellency and a wide variety of catalog. Visitors have the possibility to get in touch with them using: tollfree, email and phone.
Swainsboro
82.4 miles
Do you have sleeping in the garage an aged car or are you looking for second-hand spares suitable for your auto? This directory advise you to approach this salvage yard, since it owns an enormous catalog. Additional information: The Hadden Wrecking Co. opening schedule information isn't included yet.
1380 Lyneville Rd, Union Point
89.5 miles
The salvage yard listed here is settled near Union Point (Georgia) and it's distributing high quality auto spares to its possible customers in the proximity. If you want to demand a valuation for your junk automobile or request for a precise used spare, you can contact them using phone.