Last update on August 21, 2014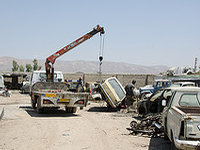 Owners who are aimed to find wrecking yards specialized in the sale of car parts or scrap metal close to the area of Brooklyn (New York), here they have an option that won't deceive. These are skilled professionals who thoroughly check the second hand auto parts they distribute and offer the expected warranties, so you can buy them with total tranquility. In case you are aimed to contact them, you can do so: phone. More information: The F & S Auto Sales & Parts opening schedule info isn't available yet, despite this you can check its website.
Their business model:
scrap metal car parts
USA, New York, Kings, Brooklyn
202 Sheffield Ave, Brooklyn, NY (Zipcode: 11207)
Business Hours
F & S Auto Sales & Parts Reviews
Place here your review below!
Need used parts? Submit your parts request for a quote
Improve your sales with us!
More than 1,000,000 monthly visitors
We could not call ourselves the leading junk yard directory on internet for the U.S. if we didn't deliver you some additional components to assist you in your search for second-hand spare parts.
Browse this listing (which is sorted from nearest to farthest) for additional junkyards in the vicinity of Brooklyn (New York).